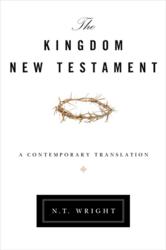 "[The Kingdom New Testament] will confirm Professor Wright's position as the J.K.Rowling of Christian Publishing."
— Church Times
San Francisco, CA (PRWEB) October 25, 2011
Most readers of the New Testament have grown overly familiar with the biblical text, losing sight of its wonder and breadth. Now, in The Kingdom New Testament: A Contemporary Translation(HarperOne; November 2011; $25.99; 9780062064912), leading New Testament scholar and former bishop N.T. Wright offers an all-new English translation that allows us to encounter afresh these historic works.
The original Greek text is vibrant, alive, and active, and Wright's translation, The Kingdom New Testament, retains that spirit by providing a new English text for twenty-first-century readers. At the same time, based on his work as a pioneering interpreter of the Bible, Wright also corrects other translations so as to provide more accurate representations of the original writers' intent.
His new translation includes:

Consistent use of gender-neutral language
A more "popular-level" language matching character of original Greek
The vibrancy and urgency of the original works
The question as to why the New Testament should be translated anew probes deeply into the minds of those who study the revered text, whether in an academic setting or not. As beneficial as different translations can be for Bible readers and scholars alike, the implications of modernizing one of the oldest and most venerated texts for the twenty-first century can be controversial.
However, Wright asserts that translating the New Testament is something each generation ought to be doing because new translations allow contemporary understandings of the text, and renders the New Testament in such a way as to make it as accessible as possible. Those new to the Christian faith can discover the modern day relevance of the biblical text and begin to form a relationship with Christ, while devout followers who know the New Testament back to front will perceive again its innovative ideas and world-changing teachings about Jesus of Nazareth.
Whether someone is reading the New Testament for the first time or has known it for years, Wright's modern translation perpetuates Christ's teachings for today's world, such that they remain universal as they're meant to be.
ABOUT THE AUTHOR
N.T. WRIGHT is the former Bishop of Durham in the Church of England and one of the world's leading Bible scholars. He is now serving as the Chair of New Testament and Early Christianity at University of St. Andrews's School of Divinity. For twenty years he taught New Testament studies at Cambridge, McGill and Oxford Universities, and he has been featured on ABC News, Dateline, The Colbert Report, and Fresh Air. Wright is the award-winning author of After You Believe, Surprised by Hope, Simply Christian, The Challenge of Jesus, The Meaning of Jesus (co-authored with Marcus Borg), as well as the much heralded series Christian Origins and the Question of God.
ADVANCE PRAISE FOR THE KINGDOM NEW TESTAMENT
"Not since J.B. Philips have we had a good, fresh, crisp translation of the New Testament done by a single person who brings to the table the sort of breadth and depth of knowledge needed to do the job properly. If you were looking for such a translation, look no further. Tom Wright's new Kingdom New Testament is both faithful and fresh, both lucid and enlightening, both careful and creative. Bringing to bear his wealth of scholarship and a lifetime of study, Tom's Kingdom New Testament will serve us well for many years to come. Enthusiastically recommended."
— Dr. Ben Witherington, III, Amos Professor of New Testament for Doctoral Studies, Asbury Theological Seminary
"A splendid achievement! Tom Wright, the world's most influential New Testament interpreter, gives us in The Kingdom New Testament a readable and dynamic translation marked by precision, personality, and power. For the public reading of Scripture, The Kingdom New Testament will be unsurpassed. If I got to decide for the church, this is the one translation I'd want everyone to read. Time and time again as I was reading The Kingdom New Testament, I was marking in the margins words like this: 'Yes,' 'splendid,' 'perfect,' 'clever,' 'evocative,' and 'finally.'"
— Scot McKnight, Karl A. Olsson Professor in Religious Studies, North Park University
"A good translator of the New Testament needs three important qualifications. These include a mastery of the New Testament Greek, an exceptional command of modern English, and broad skills in and knowledge of New Testament interpretation. N.T. Wright is superbly competent in all three. As to translations themselves, often they are either too 'popular' or too 'formal.' This fresh translation of the New Testament strikes a fine balance between the two as it ably rescues truth from familiarity. The translation includes 38 helpful maps, mostly in Acts, that show clearly the movement of the apostles discussed in the text. I recommend it highly to all who love the New Testament."
— Kenneth E. Bailey, Professor of New Testament (Emeritus) The Ecumenical Institute, (Tantur) Jerusalem
"For some people, reading the Bible is like making a journey to a strange and forbidding land. For others, the Bible has grown old and stale, like an all-too-familiar old shoe. Welcome Tom Wright's years-in-the-making Kingdom New Testament: a comforting voice for struggling newcomers, a fresh voice for translation-tired veterans. I know of no one more qualified to take the message of the New Testament and put it into words that the modern person can fully understand."
— Nicholas Perrin, Franklin S. Dyrness Professor of Biblical Studies, Wheaton College
THE KINGDOM NEW TESTAMENT
A Contemporary Translation
By N.T. Wright
HarperOne, and Imprint of HarperCollinsPublishers
November 2011│Hardcover│$25.99│ISBN: 978-0-06-206491-2
###