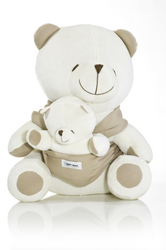 As we slowly emerge into a post-recession period, the toy trend that has been identified as being most important is the ability for retailers to provide consumers with organic toys that are both economically priced and high quality
Boulder, CO (PRWEB) July 13, 2009
NAP, Inc. (http://www.sleepywrap.com), the environmentally friendly company that produces the premium baby carrier for baby wearing parents -- Sleepy Wrap, is seeking wholesale opportunities for their new affordable, yet high quality organic stuffed animal -- The Sleepy Bear. NAP, Inc.'s new organic teddy bear is made from the softest organic cotton produced in accordance with the requirements of the Organic Exchange 100 Standard and contains no pesticides, herbicides, insecticides, chemical fertilizers or any other chemicals. The new eco-friendly toy is perfect for baby's first friend or children of all ages.
"As we slowly emerge into a post-recession period, the toy trend that has been identified as being most important is the ability for retailers to provide consumers with organic toys that are both economically priced and high quality," said Robert Antunovic, CEO of NAP, Inc. "And as we look ahead to the 2009 holiday season, many parents are 'going green' with their gift selections as pampering both the baby and the environment becomes equally important -- while staying within an affordable price range. Our new Sleepy Bear provides retailers with an eco-friendly, affordable yet luxurious option to the traditional teddy bears. In addition, ordering Sleepy Bear from NAP, Inc. has the following benefits for retailers:

High margin.
Low minimum order required.
Virtually all U.S. orders shipped next day - and arrive in a matter of days.
Shipping costs are modest.
NAP, Inc. accepts major credit cards, U.S. checks and PayPal payments.
Detailed specifications for the new eco-friendly Sleepy Bear include the following:
Sleepy Bear is 12 inches high.
The outside material is 100% organic cotton.
The Sleepy Bear is cream colored and wears an Organic Sleepy Wrap in the color khaki.
Machine washable on gentle cycle with soap but no bleach and tumble dry on low.
Sleepy Bear does not have any choking hazard parts (eyes, nose or mouth) that could be removed by a child - the eyes, nose and mouth are embroidered.
The high quality, high margin Sleepy Bear is available for $13.95 U.S. to wholesalers and the MSRP is $29.95. Wholesale inquiries from both the U.S. and Canada are welcomed and Sleepy Bear will be available only to NAP, Inc. wholesale merchant account holders. To apply for a NAP, Inc. merchant account, please fill out the Merchant Account Application online at http://www.sleepywrap.com/shop/index.php?main_page=login
For Sleepy Bear wholesale inquiries or questions about becoming a NAP, Inc. merchant account holder, contact NAP, Inc.'s Abby Penland at toll-free 888-567-WRAP or email wholesale (at) sleepywrap (dot com) or visit http://www.sleepywrap.com and click on "wholesale" in the upper right corner of web page for more information.
About NAP, Inc.
Founded in 2006, Colorado-based NAP, Inc. is an environmentally friendly company that designs, develops, and manufactures the premium baby carrier for baby wearing parents -- Sleepy Wrap. The company's newest product -- Sleepy Bear -- is a 100% organic teddy bear for children of all ages.
Media Contact:
For high res images and more information -
RPR Public Relations, Inc.
Tel. 786-290-6413
###