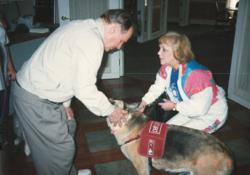 San Antonio, TX (PRWEB) February 06, 2013
With over three decades of experience in reaching out to at-home caretakers, The Alzheimer's Caregiver is suggesting eight proactive wellness tips for caregivers in the coming year. Tom Elin, CEO of The Alzheimer's Caregiver, says the recommendations are intended to encourage caretakers to also take care of themselves. He suggests the following steps for caregivers in 2013:
1. Don't be ashamed to ask for more help from friends, family, and neighbors. Many people may be eager to help but may not know what to do until the caregiver makes a specific request.
2. Remember to take personal time. Make sure to eat and sleep properly, and consider using a regular respite caregiver at least once a week.
3. Make and keep a New Year's resolution to join an Alzheimer's support group. This is a great way to keep from being isolated while taking on the responsibility of caring for others.
4. As much as possible, try to maintain a routine and be attentive to the impact of blinking lights, loud music, big crowds and large gatherings. Special occasions and holidays can be over-stimulating for someone with Alzheimer's disease.
5. Recognize that the loved one who is being cared for may continue to change this year. Keep realistic expectations about what they can do.
6. Hold on to family traditions that are personally significant and include the person with Alzheimer's disease as much as possible.
7. Encourage friends and family to visit. But limit the number of visitors at one time, and try to schedule visits during the time of day when the person is at his or her best.
8. Remember to reflect and give thanks. Writing a personal story can be a powerful and therapeutic stress relieving tool. Be sure to include the benefits you have gained.
About The Alzheimer's Caregiver.com: The Alzheimer's Caregiver provides academic, scientific, and clinical research about Alzheimer's for institutional and at-home caregivers. It offers peer reviewed Alzheimer's research, training and materials which often allow users to keep patients at home longer than would be possible otherwise. To find out what The Alzheimer's Caregiver can do for you or a loved one, visit http://www.TheAlzheimersCaregiver.com.