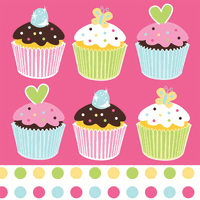 Our new first birthday party themes give parents even more options than before.
Enumclaw, WA (Vocus/PRWEB) March 29, 2011
1stBirthdayParty.com has rolled out a few new themes for first birthdays, complete with banners, tableware, favors, centerpieces, and other decorations. These themes expand the number of different patterns parents can choose from to more than forty. This many different themes makes it easy for parents to pick a theme that matches the personality of their child so that their first birthday party is truly representative of the birthday kid's tastes.
A couple of 1stBirthdayParty.com's newest themes, Lil' Rebel and Lil' Angel, are already very popular themes, and 1stBirthdayParty.com is one of the first online retailers to offer these decorations to the public. For parents with a little rebel on their hands, blue and black Little Rebel birthday party supplies featuring wings and skull-and-crossbones designs are perfect to celebrate his first year. Or, if like many sweet little girls, the little one is as angelic as can be, parents often choose to throw her a Little Angel birthday party with pink and white decorations featuring wings and a halo.
Another one of 1stBirthdayParty.com's newest birthday party themes is a Sweet Treats cupcake theme for girls. For many children, their first birthday is their first exposure to cake and other sweets, so many parents choose to start small with a cupcake for the first birthday party.
"Our Sweet Treats party supplies are designed to celebrate the experience of a baby girl having her first cake experience," says Laurie Nelson, Customer Service Manager, "and there's no better way to do this than with decorations that are as cute as the little birthday girl herself… well, almost!"
Parents who like the cupcake idea should also keep an eye out in the coming months for 1stBirthdayParty.com to release another version of a cupcake theme, with a corresponding cupcake pattern in blue for the sweet little boy in your life.
Whether parents choose one of these newer themes, or a long-standing, traditional theme like Winnie the Pooh or Sesame Street first birthday, 1stBirthdayParty.com has the decorations, tableware, and favors to make sure the little one's first birthday is perfect from start to finish. 1stBirthdayParty.com also has a variety of solid colored tableware to fill in with our themed products, creating a picture-perfect atmosphere for the little one's big day.
About 1stBirthdayParty.com:
1stBirthdayParty.com is owned and operated by PartyPail, Inc., and sells a wide variety of decorations and supplies for first birthday parties, including everything from traditional first birthday themes to more unique, outside-the-box theme ideas. A commitment to quality customer service and strong family values are core principles that drive PartyPail and 1stBirthdayParty.com.
# # #