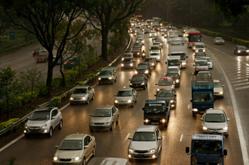 Shocking data from car finance and dealer specialist carfinance247.co.uk reveals that new vehicles could lose anything from 12-25% of their value in less than 6 months
Manchester (PRWEB UK) 4 September 2012
Shocking data from car finance and dealer specialist carfinance247.co.uk reveals that new vehicles could lose anything from 12-25% of their value in less than 6 months – suggesting that buying a nearly new car could give you all the benefits of having a new vehicle (such as low mileage etc), whilst still making potentially huge cost savings.
Louis Rix, Director at Carfinance247.co.uk, says: "We took a sample of some nearly new and used vehicles currently for sale* and compared their current selling price to what it was at new, with some surprising results."
Mr. Rix gives three examples:

a 2012 registration plate Vauxhall Corsa 1.0 bought new would have cost around £12,685 – less than 6 months' later, the value has depreciated by 25% to £9,488;
an Audi A6 3.0 TDI bought new less than 6 months ago, would have cost around £36,555. Now you can pick up one for £31,900 - a 12% depreciation;
a 2010 Ford Focus 2.0 TDI costs £21,045 new. In less than two years, it has lost 43% of its value and you can snap up one for £11,988.
He adds: "In the midst of these austere times, how would you feel about burning £3,000 in cash? In the first example, that is exactly what you are doing – as soon as you drive a new car off the dealer's forecourt, you have lost money.
"And as our data reveals, getting a nearly new used car can be a way to really maximise your budget. Using a service such as ours means you can benefit from getting a fully checked vehicle (all our used cars are given full checks including history checks to make sure there is no outstanding finance), without the hefty price tag."
Ends
*Independent research carried out using vehicles currently available on the Carfinance247.co.uk website, compared with the same makes and models as new, using the Which? Car depreciation tool.
Contact:
Louis Rix, Director of carfinance247.co.uk, email: louis.rix(at)carfinance247(dot)co(dot)uk
Address: The Loading Bay
Albion Works
12-18 Pollard Street
Manchester
M4 7AJ
About us:
Founded in 2000, carfinance247.co.uk is a privately owned business with offices based in central Manchester. We provide vehicle financing solutions for all financial circumstances such as hire purchase, personal contract purchase, contract hire and other leasing options. No deposit is required and we can supply and deliver any make and model of your choice.