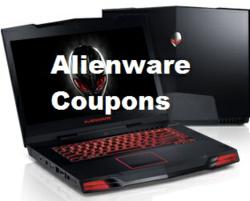 Save money on your next Alienware gaming laptop or desktop with these handy coupons.
(PRWEB) February 06, 2013
Alienware has just recently released some new online discount coupons for the savvy online shopper. Future Alienware buyers can save money by using these recently released desktop and laptop gaming coupons featured on the Bizwaremagic site, which runs a handy online laptop buyer's guide.
Included in these discount coupons are great deals on popular Alienware products, such as save $50 off the M17x 17-inch gaming laptop with 3rd Generation Ivy Bridge Intel i7 processor and 2GB video card for only $1449 with free shipping. Save an extra $100 off the Alienware X51 compact gaming desktop when you upgrade to $1499 or above. Save an extra $50 off the Alienware M14x 14-inch gaming laptop for $949.99 which also comes with free shipping.
Potential buyers simply have to click these links or use the appropriate coupon at checkout time. Keep in mind, many of these coupons are exclusive and only found online. Buyers should also check the official Dell Alienware site for all terms and conditions.
"While these Alienware deals and discounts are not as attractive as the ones found on Black Friday or Cyber Monday," says Titus Hoskins, a former teacher who now runs the Bizwaremagic site. "Gamers can still save money when purchasing their Alienware gaming desktop or laptop with these newly released coupons."
As part of its ongoing laptop buyer's guide, Bizwaremagic.com features select coupons and discounts from many major computer manufacturers such as Dell, Alienware, Toshiba, HP... and many more. While the main objective of this guide is to help online buyers find the right laptop or desktop for their needs, offering attractive discounts is also greatly appreciated by the site's users and patrons. Many of these users also bookmark the appropriate webpages, as new discounts and coupons come on stream on a daily basis.
This special updated Alienware Coupons Page can be found here: http://www.bizwaremagic.com/alienware_coupons_discounts.htm. Bizwaremagic.com is a handy 11 year old site which features many free guides and resources. You can follow us on Twitter @bizwaremagic or like us on Facebook here: Bizwaremagic's Facebook Fanpage. All products/companies mentioned above are registered trademarks of their respective owners and companies.