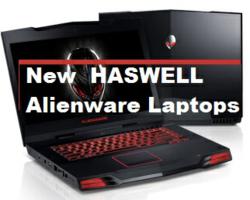 Newly equipped Haswell Alienware gaming laptops are featured on the Bizwaremagic.com site.
(PRWEB) June 12, 2013
New Alienware gaming laptops empowered with Intel's latest 4th Generation "Haswell" Processors have just been featured on the Bizwaremagic.com site, which runs an informative online laptop guide. This guide keeps visitors and subscribers informed on all the latest developments in laptop and computer technology - especially when it comes to purchasing a new machine. It also presents a handy money saving Alienware Discounts and Coupons Page for its patrons.
According to Intel, these 4th Generation Processors (codename Haswell) are 15% faster and will supply 50% longer battery life than their Ivy Bridge predecessors. The new chips will even last three times longer in standby mode. These improvements are impressive but will it be enough to entice more gamers to purchase these new "Haswell" laptops and computers, especially when one considers these new chips are significantly higher in price than 3rd Generation (Ivy Bridge) Core chips.
Alienware is probably betting gamers will take the plunge and is offering up many of its popular models with the new processors and new designs. These new Haswell laptops include the M14x starting at $1,199, the M17x starting at $1,499 and the M18x starting at $2,099. Gamers know if they want the highest specs they will have to pay more for fully loaded systems.
While the low battery consumption is very attractive, one of Haswell's main selling points - the integrated Iris GPU (graphical processing unit) - will not be powerful enough for hardcore gaming so a dedicated graphics card will still be needed. However, for ordinary laptop and tablet usage, these new low-power chips could be perfect. In addition, it is also believed the extra graphics processing power of Iris could help bring ultra-high resolution displays, such as 4K and Retina, into the mainstream.
Alienware is also incorporating the new Haswell chips into its popular desktop PCs such as the NEW Alienware X51 compact gaming desktop with 4th Generation Intel Core i5 and i7 processors. Gamers will have to decide if Haswell is worth an upgrade or not.
Our special updated Alienware Coupons/Discounts Page can be found here: http://www.bizwaremagic.com/alienware_coupons_discounts.htm Bizwaremagic.com is a handy 11 year old site which features many free guides and resources. You can follow us on Twitter @bizwaremagic or check out our top gaming systems here:
http://www.bizwaremagic.com/best_gaming_notebooks.htm All products/companies mentioned above are registered trademarks of their respective owners and companies.