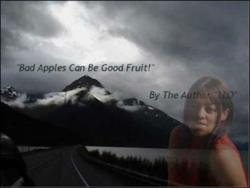 Bad Apples Can be Good Fruit
New York City (PRWEB) January 09, 2013
TLO Redness, author, combat photographer specialist and former songwriter, announces the release of her new book "Bad Apples Can be Good Fruit". The novel is about a woman's struggle to let go of past aggressions and evils and move on to a promising future.
In "Bad Apples Can Be Good Fruit", the main character, Cheryl, has a few bones in her closet. Cory is an above-average guy who plans to deal with Cheryl's paranoia while concealing a past of his own. Cheryl's big secret finally unfolds, with a shocking twist that decides the fate of their relationship. But, with the intimate attraction and confessions, will they survive the secret?
Writing "Bad Apples Can Be Good Fruit" helped Redness battle her own trials and gave her inspiration to help others. Part fiction, part non-fiction, the novel incorporates events of the author's life.
"While writing this book I had every intention to keep it fiction, but during the story-telling phase, I realized that in order to flesh out a real character who could appeal to real people, I had to breathe life into the nostrils and give substance from my own breath," Redness says. "Some of the stories are similar to experiences I had. I did not intend to use this approach for sympathy, but for strength. I want to be a beacon of hope for children and young adults, a pillar of strength during times of despair."
TLO Redness is currently working on a sequel, titled "Looking For My Husband Daddy".
About TLO Redness
TLO Redness serves as the non-commissioned officer in charge (NCOIC) of Area III South Korea as a combat photographer specialist, servicing video projects for three air force bases and three army posts. Redness co-wrote the three-times platinum song "Informer" by Snow, and has subcontracted on many large assignments with major film companies. More information about the author and "Bad Apples Can Be Good Fruit" can be found online at http://www.BadApplesCanBeGoodFruit.com.
# # #