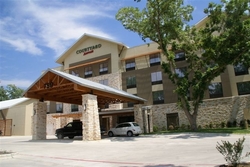 New Braunfels, TX (PRWEB) April 22, 2010
Family vacations will be more fun and affordable with the great new Natural Bridge Caverns Promotion at the Courtyard New Braunfels River Village hotel, where guests will receive admission tickets for two adults and two children when taking advantage of this offer at one of the finest hotels in New Braunfels, Texas. Exploring the natural wonders of Natural Bridge Caverns where chamber after chamber of live formations and towering columns are certain to create family memories that will last a lifetime.
The majestic underground wonders found below the rolling ranges of Texas Hill Country are a spectacular presentation of rare and delicate formations, soda straw stalactites and fascinating cave ribbons. But the adventure doesn't end below ground, as the world's largest sluice and the watchtower challenge are part of what make the Natural Bridge Caverns Park and exciting and fun family adventure. Guests can utilize the sluice to pan for precious stones as the mining "rough" is washed to reveal sparkling gems, minerals or even fossils. Adventurous family members will find the zip lines of the Watchtower Challenge a great thrill, moving at speeds up to 25 miles per hour.
Rates for the Courtyard New Braunfels River Village hotel's Natural Bridge Caverns Promotion start at just $189 per night for weekend stays, and $179 per night for weekdays and in addition to deluxe lodging in a room with two queen beds and a balcony view, guests will receive two adult and two children's tickets to Natural Bridge Caverns. For more information regarding the caverns, visit http://www.naturalbridgecaverns.com.
Exciting adventures combined with the relaxing atmosphere of the River Village New Braunfels hotel make this promotion a timeless offering for deserving guests as they enjoy a relaxing experience. Flawless service and well-kept property allow families to enjoy the serenity and excitement of New Braunfels' German heritage. Nestled deep in the heart of Texas Hill Country along the Guadalupe and Comal Rivers, New Braunfels boasts fine museums and the Gruene Historic District to create an atmosphere of old world heritage and small town Texas charm. Conveniently located just of IH-35, the Courtyard New Braunfels River Village hotel is a hot spot for New Braunfels event planning, offering unique meeting space for conferences or intimate gatherings. Offering spacious rooms with balconies overlooking the beautiful Guadalupe River and 100-year-old pecan groves this setting creates a relaxing escape and a great location for business or social gatherings.
About the Courtyard New Braunfels River Village
The Courtyard New Braunfels River Village features spacious guest rooms with the Marriott's luxury bedding ensembles, complimentary wired and wireless high speed Internet access and a flat screen television. Cable/satellite service provides premium channels. The hotel also offers a resort-style outdoor swimming pool, whirlpool and on-site exercise room for the convenience of guests. The Bistro Café is open for breakfast and dinner offering a variety of sandwiches.
###