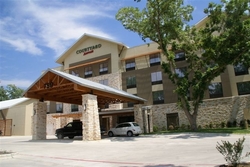 New Braunfels, TX (PRWEB) June 2, 2010
New Braunfels, TX (05/26/10) – The Courtyard New Braunfels River Village Hotel was successful in achieving occupancy and revenue goals that exceeded 40 other Marriott hotels that opened in 2009 due to a dedicated staff and enthusiastic guests, combined with strong corporate support and a warm welcome from the City of New Braunfels. As a result, the New Braunfels hotel was recently awarded the Marriott's 2009 North American Sales Ramp Up Award.
The award is presented annually to an opening hotel that best attains its sales and marketing goals in the first three and six months of operation. Goal attainment is determined by how quickly a hotel reaches high occupancy and Revenue Per Available Room (RevPAR) Index goals through the accomplishments of its pre-opening marketing plan. The Courtyard New Braunfels River Village Hotel, fast becoming the choice selection among accommodations in New Braunfels, exceeded the occupancy rate, Average Daily Rate and RevPAR of 40 other Marriott hotels opening in 2009 to claim the honor.
"I am very excited to receive Marriott's 2009 Sales Ramp Up Award on behalf of the entire team," said Ben Baker, general manager of the hotel near Seguin, Texas. "I believe we received this award due to the sales efforts of the hotel staff and corporate office, the warm welcome from the City of New Braunfels and the enthusiasm of our guests. It is truly an honor to be recognized by Marriott for our efforts for this type of award."
Announcement of the award was made by Oldham Goodwin Group, LLC, management organization of the hotel which features 125 rooms on the popular Guadalupe River in Texas Hill Country. The Courtyard New Braunfels River Village Hotel, developed by TEKMAK Development, a Dallas hotel development company, is one of three new properties the group opened in 2009.
"Tough economic conditions in 2009 told us we needed extreme team focus on an early sales effort," noted Hunter Goodwin, President and Director of Hospitality of Oldham Goodwin Group, LLC. "We deployed significant team resources into canvassing the local and regional market in order to raise awareness of the property, develop relationships and 'press the flesh' with our future customers. This award is a testimony of that effort and we are extremely proud of the recognition by one of the premier brands in the hospitality industry."
About the Courtyard New Braunfels River Village Hotel
The Courtyard New Braunfels River Village Hotel is conveniently located on the Guadalupe River, where guests can enjoy breathtaking river views and a resort-style heated swimming pool surrounded by 100-year-old Pecan trees. A standout among hotels near Canyon Lake, this new property features spacious guest rooms that offer modern amenities including luxury bedding ensembles, complimentary wired and wireless high speed Internet access and a flat screen television, while maintaining the Old World charm that has made New Braunfels an exceptional travel experience.
###