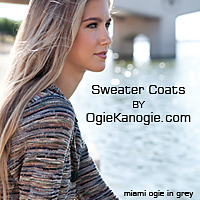 We shop online a lot ourselves
Malibu, CA (PRWEB) July 22, 2009
In the heart Malibu, California, Ogie Kanogie is open for business. The shop showcases Ogie's unique line of machine washable womens clothing, including full length sweater coats, winter coats, jackets, dresses and tops. Ogies are stylish, comfortable, and versatile enough to wear at the beach, a ballgame, or a dressy evening out. Co-owners/designers Jamie Hormel and Massiel Bueno believe that everyday clothing can look great, be comfortable and well priced, and simply washed at home. Imagine, machine washable winter coats, elegant full length sweaters that you can drop in the washing machine, and tops, faux shearling coats -- all machine washable.
"We've got the customer in mind," says Ogie Designer Massiel Bueno. "Our lives are very busy and we love the idea of being able to just grab a jacket, a full length coat or sweater from our closets and know we'll look fantastic. That's what Ogies are all about. They're easy to clean women's wear, comfy, reasonably priced and they really look beautiful on.
"Throw one of our long coats or long sweater with a hood over a pair of jeans or a summer dress and you immediately add a touch of casual elegance to your look."
With the opening of the women's clothing retail store in Malibu, CA, customers can now stop in and experience Ogies first hand. They can touch and try on Ogie dresses, tops, sweaters and coats.
"We choose the most fun and beautiful fabrics that really appeal to us," says Bueno. "We love textures and colors and we know what's going to look great and fall just right to flatter women. Our long coats and sweater coats with hoods can make any outfit spectacular."
The fabrics include animal print dresses, solid colors like brown dresses, pick hoodie tops and a playful paw print patterned dress. Stunning coat include chocolate brown faux shearling, black faux shearling, knit coats in oatmeal, striped knit coats, black, forest green and other solids colors. Look for some dramatic faux fur coats in pink, mocha and beige that are sure to call attention.
Besides the new store in Malibu, OgieKanogie.com offers a great shopping experience online. The online women's clothing shop offers free shipping both ways, superior customer service, and a web site that's easy to use.
"We shop online a lot ourselves," says Bueno. "We know how important it is to be able to speak to someone if you have questions, so we're easy to contact. We offer free shipping and free return shipping because that's what we like as customers. We want customers to be happy with their Ogie coat, sweater, dress or hoodie top. With free shipping both ways, customers can shop OgieKanogie.com with confidence."
Ogie Kanogie Dresses & Tops start at just $45 and include hoodie tops, hoodie dresses, mini dresses, strapless dresses and long sleeve hoodie dresses. The Coat Collection includes full length sweaters, coats and jackets and starts at $150. All Ogies are machine washable and made in the USA of eco-friendly materials.
For more information, please see our previous release, Two Women Launch a Business in a Tough Economy
Ogie Kanogie in Malibu
22333 Pacific Coast Highway
Malibu, CA 90265 (next to Canyon Beachwear)
Summer Store Hours: Noon to 6 everyday
Phone: 310.456.1880
###