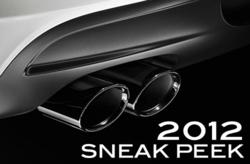 Torrance, CA (PRWEB) October 05, 2011
Editors at autoMedia.com suggest that every year automakers work harder and harder to improve their brands, with models that offer that magical combination of improved styling, performance and fuel economy, plus advanced safety and technology features. autoMedia.com is keeping close tabs on what car manufacturers have in store in the way of new cars for 2012 and showcasing some of the new designs in a photo gallery recently added to their site.
"The new 2012 models are being announced daily and arriving in dealerships. Because of the tough economy automakers now more than ever need to meet consumer demand for new cars loaded with the most features for the least amount of money," said Marshall Flemion, president of autoMedia.com.
autoMedia's New Cars for 2012 photo gallery includes models like the all-new Audi A7, Buick Verano, and redesigned Volkswagen Beetle and Honda CR-V. Consumers can take an early look now at the new cars for 2012 online at autoMedia.com that are soon to be appearing in showrooms across the U.S.
According to the LA Auto Show web site, the buzz gets in full swing at the 2011 Los Angeles Auto Show this November—the first major U.S. auto show sparking the season and rumored to be debuting more than 50 new models.
About autoMedia.com—the auto web site launched in September 2000 by a team of automotive editorial, design, and publishing professionals with the goal to be the premier provider of quality automotive content on and for the Web. Today it boasts over 92,500 pages of original articles, including over 2,500 features researched and written by leading automotive experts, covering new and used car buying, new vehicle previews, road test reviews, car care maintenance, professional driving advice, and technology. Automotive enthusiasts and new car shoppers can read about the latest industry news, pricing, rebates and incentives, view photo galleries and research details on all makes and models. For more information visit autoMedia.com