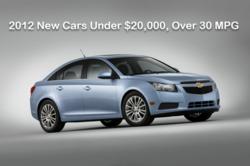 New car buyers on a budget don't have to sacrifice style, features, or great mpg when spending under $20,000.
Torrance, CA (PRWEB) November 30, 2011
The expert editors at autoMedia.com, a trusted source for new car buying, research, and reviews, tested the new cars for the 2012 model year with a base price under $20,000 and an EPA-rated (or estimated) combined city/highway mileage rating of a fuel-efficient 30 MPG or more.
According to autoMedia.com, most sources—when touting mileage numbers—use the best highway mileage number, but drivers don't always and only drive on the highway, which is why autoMedia.com says it first narrowed the list of under $20,000 fuel-efficient new cars down to those that earn a combined city/highway 30 mpg. "Real life means a combination of driving on the highway, around town, and sitting in traffic. Real life in this economy also means keeping spending to a minimum, but still getting the most for the money," said Deborah Neal, editorial director of autoMedia.com.
autoMedia.com considered all 20 new cars on sale today that meet the under $20,000/over 30-mpg formula, and determined the 10 best from there based upon their total packages of exterior size, interior room, standard convenience and safety features, and overall driving experience. Topping the list of winners is the 2012 Mazda3 with SKYACTIV technology and the 2012 Chevrolet Cruze ECO. Read about all autoMedia.com Top 10 Best New Cars for 2012: Under $20,000, Over 30 MPG.
"Consumers who either can't or don't want to spend a lot of money on a new car have a great selection to choose from in 2012," said Marshall J. Flemion, president of autoMedia.com. "New car buyers on a budget don't have to sacrifice style, features, or great mpg when spending under $20,000."
About autoMedia.com: The auto website was launched in September 2000 by a team of automotive editorial, design, and publishing professionals, with the goal to be the premier provider of quality automotive content on and for the Web. Today it features over 92,500 pages of original articles, including over 2,500 features researched and written by leading automotive experts, covering new and used car buying, new vehicle previews, road test reviews, car care maintenance, professional driving advice, and technology. Automotive enthusiasts and new car shoppers can read about the latest industry news, pricing, rebates and incentives, view photo galleries and research details on all makes and models. For more information visit autoMedia.com.
###