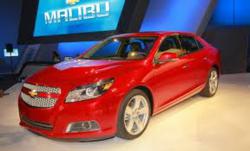 Change your vehicle, not your lifestyle!
Davison, MI (PRWEB) January 24, 2012
Hank Graff Chevrolet, a "Home Town Dealer" since 1914, took the new Chevy Malibu for spin and here is what they had to say. "While driving the new 2013 Malibu, from an early morning wheeling down M-15 to motoring back up I-75 during rush hour traffic, you can expect pure satisfaction."

Styling - Sophisticated & conservative. Perhaps too much like the previous model year, yet Graff truly believe their customers will be excited buyers.
Interior - ECO comes across as a premium trim level, nothing cheap about it. Very nice and plush, also available in gorgeous two-tone leather. The lines and curves inside are smooth and make visual sense, rather than giving an illusion of unnecessary curves to achieve a higher quality look. The new 2013 Malibu's controls look inviting and have a premium feel in operation.
Quiet - They did an outstanding job keeping out noise in the new Chevy Malibu, making it as quiet as other premium sedans.
Dynamics - How it moves, responds and feels brings a certain excitement behind the wheel. Responds quickly up to highway speed. Steering and brakes felt good.
Details - For now, Chevrolet is not offering both navigation and the MyLink in the new Chevy Malibu, it's one or the other. But next summer, they'll be available together. Back seats are roomy and will be sufficient for most adults. The outside mirrors have been trimmed to reduce wind noise. However, Graff said Chevy is offering blind-spot mirrors sometime next year.
What? Major redesign coming for 2013 Malibu models.
When? On sale first quarter of 2012, as a 2013 model.
Where? Built at Fairfax, KN., and, later next year, Detroit-Hamtramck, MI, (1 hour away from Hank Graff Chevrolet in Davison MI).
What makes it go? Malibu Eco is powered by GM's eAssist setup, similar to that on Buick LaCrosse and Regal. A 2.4-liter, four-cylinder gas engine rated 182 horsepower at 6,200 rpm, 172 pounds-feet of torque at 4,900 rpm, is mated with a 15-hp/79 lbs.-ft. electric motor that moves the car momentarily before the gas engine restarts and takes over after extended stops. Electric also provides acceleration boost. Six-speed automatic transmission with manual mode.
The 2.5-liter gasoline-only engine due next summer will be rated about 190 hp at 6,200 rpm and 180 lbs.-ft. at 4,500 rpm and use a six-speed automatic. Due still later: a 2-liter turbo four-cylinder.
How big? A few inches longer, wider than Toyota Camry hybrid and about 200 lbs. heavier. Malibu Eco is 191.3 inches long, 73 in. wide, 57.6 in. tall on a 107.8-in. wheelbase. Weighs 3,620 lbs. Passenger space: 100 cubic feet; trunk, 14.3 cu. ft. Turning diameter, 37.4 ft.
MPG's? Rated at 25 miles per gallon city, 37 mpg on the highway, 29 combined with a tank size of 15.8 gallons.
Overall: Nice car!
To view Hank Graff Chevrolet's New Chevy Malibu inventory please visit http://www.hankgraffdavison.com
###