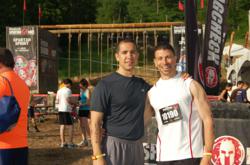 "The race itself and the obstacles were much harder than we anticipated but nothing compared to the challenges faced each and every day by those afflicted with MS," stated Dr. Michael Cocilovo
New City, NY (PRWEB) June 12, 2013
When eleven individuals signed up as members of the New City Gladiators under the auspices of New City Chiropractic Center to participate in a 'Spartan Sprint,' for charity they had some idea of what they had gotten themselves into but none of them truly realized the extent of the challenges they would face on a very hot June 2nd.
"The race itself and the obstacles were much harder than we anticipated but nothing compared to the challenges faced each and every day by those afflicted with MS," stated Dr. Michael Cocilovo, organizer of the Gladiators. Dr. Cocilovo's older brother Vincent was diagnosed with Multiple Sclerosis over 25 years ago and so the cause is one that is close to his heart. In addition, his practice treats many individuals who suffer from MS including Richard Fernandez whose wife Nancy was part of the Gladiator team and raised over $4,400. The team together raised a total of $8,000 by race day but the total donation is currently $9,267. Additional donations can be made at: http://bit.ly/gladiators-for-ms.
Spartan Race™ was designed by seven "insane ultra athletes and a Royal Marine" according to the company's website which also states their goal is simple, "...to get you off your couch, throw you in the mud and trails, and feed you one tough endurance event day that will be the adrenalin rush of your life." Dr. Cocilovo and his team would agree, "There were times during the race that each of us questioned whether we would actually get through it, but we were determined not to let ourselves down, our teammates and those we were raising money for and so we pressed on and at the finish line we all felt exhausted but exhilarated and definitely proud of what we had accomplished individually and as a team," he added.
While there are different levels of Spartan Races, the Gladiator team participated in a Spartan Sprint which is normally a little over three miles, but because Spartan Race uses the Tuxedo, New York obstacle course to test new challenges, the course was actually 4.6 miles, although the racers weren't told that until the end of the day, and much of it up hill. The obstacles included dragging 25 pound sand bags up hill, climbing spider web type ropes, pulling cement blocks by metal chains, scaling numerous walls ranging from four feet high to eight feet high, balancing and walking across thin tree stumps placed in the ground, throwing javelins, climbing a 20 foot rope after wading through hip deep mud, flipping giant tractor trailer tires, crawling and rolling in mud uphill underneath barbed wire, traversing a fire pit, and just when you think you're done, there are men at the end of the race with giant, albeit somewhat cushioned, clubs waiting to give you a whack just before you cross the finish line! For every obstacle that the athletes didn't accomplish successfully, they had to execute 30 burpees which is a full body exercise akin to a jumping jack combined with a plank and a squat thrust!
More than 12,000 people participated over the course of the weekend with the fastest finisher coming in at about an hour and with the average time at 2.5 hours. The New City Gladiators were in the middle range with a very respectable team finish of approximately 400 out of 750 teams. They each received a Spartan Race "I finished – can you?" t-shirt along with a medal for their efforts.
The other motivating factor for Dr. Cocilovo was undergoing major hip surgery about a year ago. He promised his daughter Katie that once he had completely healed they would participate in a sporting event to celebrate his return to health. "Katie went and found the toughest sporting event possible," joked Dr. Cocilovo.
Multiple sclerosis (or MS) is a chronic, often disabling disease that attacks the central nervous system (CNS), which is made up of the brain, spinal cord, and optic nerves. Symptoms may be mild, such as numbness in the limbs, or severe, such as paralysis or loss of vision and no two people have exactly the same symptoms. Today, new treatments and advances in research are giving new hope to people affected by the disease. Although there is still no cure for MS, effective strategies are available to modify the disease course, treat attacks, relapses, and flare-ups, manage symptoms, improve function and safety, and provide emotional support. In combination, these treatments enhance the quality of life for people living with MS. New City Chiropractic Center is now also involved with the local chapter of the MS Society through their patient Richard Fernandez. "He is a constant source of inspiration for all of us," said Dr. Gilbert Rodriguez of New City Chiropractic Center.
When asked if they would be putting together a team for next year, Dr. Cocilovo responded, "Most of us are still sore from the first one, but yes, we hope to put together a team for next year and double the donation amount!"
New City Chiropractic Center (http://www.newcitychiropractic.com) has been serving the Rockland County area for over 25 years providing chiropractic care, health and wellness workshops on topics such as managing stress, reversing diabetes, creating an ergonomic office and back safety. A Certified Sports Team Physician, Dr. Cocilovo is also one of a select group of chiropractors who is certified to perform Manipulation under Anesthesia (MUA). He is a long-time member of the New York State Chiropractic Association and is Past President of the Rockland County Chapter of the American Chiropractic Association. Dr. Rodriguez is board certified in Chiropractic and Physiotherapy by the National Board of Chiropractic Examiners and a current member of the American Chiropractic Association, as well as of the New York State Chiropractic Association. Their office is located at 490 Route 304 in New City and they can be reached by calling 845-634-8877 or info(at)newcitychiropractic(dot)com.