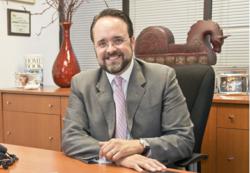 The Porsche Design Tower is elevating Sunny Isles Beach to a New Level of Luxury and Exclusivity.
Miami, FL (PRWEB) April 04, 2013
Lenders also have contributed to the rebound of the local new-construction market, showing a renewed appetite for real estate risk, offering their loans to the buyers, as well as to the builders, funding the construction of these new projects. Currently, in South Florida there are great number new projects under construction, which is a testament to the confidence that developers have placed in the rebound of the real estate market in South Florida.
Recently, Vilma Chiuz, a very successful real estate associate with Interinvestments Realty, sold a unit in the plush Porsche Design Tower in Sunny Isles Beach, FL., for approximately $4 million. This ultra exclusive condominium project will become one of the most luxurious high-end technological residences ever built in this area.
"Porsche Design Tower is a majestic cylindrical 57-story building, located on 200 feet of sugar sand frontage, overlooking the Atlantic Ocean," says Chiuz. "The most remarkable feature that the building will offer is a robotic car elevator that will take residents directly to their units while they remain seated in their cars. Residents will simply need to drive up with their car and shut the engine off; a robotic arm will place their car into a glass elevator and straight to the front door of their residences."
"The three-story lobby uniquely appoints to a full glass observatory of the robotic car lift. A lobby level restaurant enclosed in glass will provide private wine lockers for each residence. A lobby-level bar lounge with ocean views, showcasing a large screen television and a monumental fireplace enhance a unique living experience for its residents," continues Chiuz. "Most residences have a private swimming pool and a summer kitchen on their oversized terraces."
"The finishes are the best quality available; including Poggenpohl designed kitchen cabinets with motorized doors and expansive islands. Equipped with Miele appliances, including a wine cooler, speed-microwave oven and warming drawers, premium granite countertops are in the kitchen and bathrooms," adds Chiuz. "Residents can host social events in the front ballroom with kitchen; but the best is the private entrance to the units in a private elevator that opens directly into the residences, which makes it very exclusive for those who seek living in privacy."
"My clientele is 90% foreign. They are buyers coming from Argentina, Bolivia and Brazil, who usually buy condos and use their units as an investment or vacation home," adds Chiuz. "They mostly prefer high-end urban residences. The sources for my clients are from both, prospecting and referrals."
"I believe Miami is pulling the national housing market out of the slump," continues Chiuz. "Inventory is running out and as demands increases, so will prices. There is a lot of foreign investment that continues to be vested in our area."
"New-construction gives you the option of designing to your needs without the bureaucratic red-tape of the resale market. Also the amenities in new-construction are more in line with continually changing technological upgrades," finishes Chiuz. "Miami's value will continue to increase because in comparison the uniqueness that Miami offers, culturally, physically and environmentally, as well as its location, when compared to other quality oceanfront locations throughout the world, Miami is still a great buy! But buyers should hurry, because at the current pace that those properties are selling now; it will not last for much longer!"
If you want to receive more information about the best new-construction projects in this area, please contact our office at the telephone number that appears in our contact information, next to this communication.