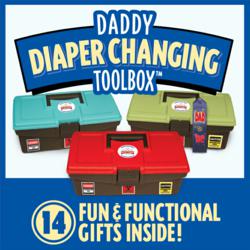 "New Dads these days want to be acknowledged as a parent-to-be without stealing the limelight of motherhood"
(PRWEB) November 14, 2011
Tampa, FL – Funstuff4babies, a New Dad Gifts creator, announced today they have been officially notified by the United States Patent and Trademark Office that their Daddy Diaper Changing Toolbox is Patented Patent No. 8,047,375; additional patents are pending for this Daddy to be gift.
"I knew I had my million dollar idea when my mother-in-law bought one," says Chris Hartsfield, CEO of Funstuff4babies. "For many new dads-to-be, fatherhood is an adventure waiting to happen," adds Hartsfield. "While the dad-to-be may seem aloof during the whole pregnancy nesting and baby shower gift giving, he really is interested and wants to be acknowledged as a parent-to-be without stealing the limelight of motherhood."
Several thousand of the Patented Daddy Diaper Changing Toolbox's have been sold at a lightning pace in the US and around the world including England, Norway, Singapore and Australia. The Daddy Diaper Changing Toolbox has been featured and well received on the Today Show with Bobbie Thomas as a great gift idea for new dads and is a frequent celebrity daddy to be gift.
Fourteen fun and functional tools are included to assist in the shock and awe or "ewww" of the first diaper changing experience for the new daddy. A few patented items that adorn the Dad-to-be are a Poop Poncho, Bio-hazard mask, Tongs, Gloves and Goggles. Think of it as a diaper duty survival kit.
About the Company
Thriving despite a downturn economy, Funstuff4babies, currently self-funded, has doubled their sales figures for Daddy to be gifts every year since 2008. "Laughter is appealing no matter what the economy and everyone has a soft spot for a new baby on the way," said CEO, Chris Hartsfield.
In 2012, the makers of the Daddy Diaper Changing Toolbox are planning to expand their brand with outside investors and have been approached by a large retailer in the baby business as well as a licensing opportunity with a world-wide syndicated Cartoon character to be the spokesman for the fun and functional Daddy Diaper Changing Toolbox.
The Daddy Diaper Changing Toolbox can be found at GiftsForDadToBe.com, Walmart.com, Amazon.com, Wayfair.com, and many other fine retailers across the USA.
For more information about Funstuff4babies and licensing inquiries for the Daddy Diaper Changing Toolbox please email funstuff4babies(at)gmail(dot)com.
###