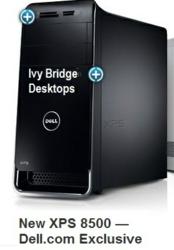 New coupons for the Dell XPS 8500 Desktop empowered with 3rd Generation Intel Core (Ivy Bridge) Processors, featured on izwaremagic.com...
(PRWEB) May 02, 2012
New Dell XPS 8500 Desktops, sporting 3rd Generation Intel Core (Ivy Bridge) processors, are now featured on the Bizwaremagic website. These new 3rd Generation Intel Core processors are a level above their Sandy Bridge forerunners, which are currently present in most desktops and laptops on the market.
Bizwaremagic.com, which runs an extensive online laptop and computer buyer's guide, regularly presents discount coupons for featured products such as the Dell XPS 8500 desktop. These coupons are only available for a limited time and are exclusive to the Dell.com site. As of yet, customers cannot get it in retail.
Potential customers can use these coupons to get a NEW Dell XPS 8500 Desktop with the 3rd Gen Intel Core processor and an optional solid state drive starting at $749.99. Another offer features the XPS 8500 Desktop with the Intel Ivy Bridge i7 processor, 8GB memory and 1TB hard drive for only $899.99 - with free shipping. This is the Intel i7-3770 processor featuring speeds of 3.40 GHz, with Turbo Boost up to 3.90 GHz.
These 3rd Generation Core processors are the latest offering from Intel and are just now being featured in new desktop and laptop computers. In benchmark tests carried out and reported by PCWorld, these Ivy Bridge CPUs offer only "a moderate CPU performance boost over current Sandy Bridge chips" but they do offer "significant graphics improvement, as well as better battery life."
Improved graphics will definitely interest the targeted market for these processors, mainly gamers who want the highest performance levels possible in their gaming rigs. Ivy Bridge will now be the new standard demanded in all of the latest gaming desktops and laptops.
These new Dell XPS 8500 Desktops and Coupons can be found here: http://www.bizwaremagic.com/Dell_Notebook_Coupons.htm or download our comprehensive laptop buying guide here: http://www.laptopcomputerguide.org All products/companies mentioned above are registered trademarks of their respective owners and companies.