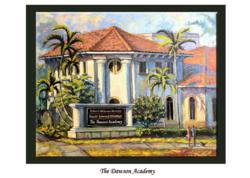 We are in exciting times and it's great to be playing a role in the advancement of our profession, and it's especially nice to be doing it in such a beautiful facility in St. Petersburg
St. Petersburg, FL (PRWEB) September 10, 2011
DuPont and Wilkerson Dentistry, the practice of Ronald C. Kobernick, DDS, MScD and The Dawson Academy recently moved to their new dental facility in downtown St. Petersburg. After nearly a year of renovations to the former Tourtelot Building located at Fourth St. N. and Fourth Ave. N., the three businesses were able to begin the fall in their new building.
Dr. Glenn DuPont said, "even though it has been a lot of work, we are absolutely thrilled to be able to renovate this beautiful building and stay involved in the downtown area." Dr. Peter Dawson, founder of The Dawson Academy, added, "we did not want to leave downtown so we feel very fortunate to have found the perfect building with close proximity to hotels and restaurants. Dentists come here from all over the world and they always express enthusiasm for all the amenities our downtown offers."
The three businesses, all in the dental industry, have been closely associated for over 20 years. Dr. Ronald Kobernick shared, "I am excited about being a partner in our new building because it is a unique Center for Dentistry." Joan Forrest, CEO of The Dawson Academy added, "Our Academy is unique in that all of our faculty maintain full time dental practices, providing relevancy and reality to our teaching. Being co-located with these three outstanding clinicians and their state of the art practices creates an exceptional learning environment."
Both DuPont & Wilkerson Dentistry and the practice of Ronald C. Kobernick, DDS, MScD express their excitement to provide their patients with the latest in technological advancements in a comfortable environment with easy parking and ground floor access.
Dawson said "Our new facility also allows us to take advantage of new technologies for online teaching. The market for postgraduate dental education has a huge international following that our online teaching programs are well suited for."
"We are in exciting times and it's great to be playing a role in the advancement of our profession, and it's especially nice to be doing it in such a beautiful facility in St. Petersburg," Dawson shares.
About The Dawson Academy
The Dawson Academy has been providing continuing education to the dental profession for over 30 years. The Academy is dedicated to teaching the principles and skills necessary for the successful practice of complete, quality, and predictable dentistry.
###