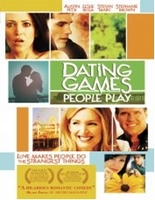 1 of the 5 most popular soap stars
Chatsworth (PRWEB) January 17, 2008
Westlake Entertainment, Inc. announces today the release of DATING GAMES PEOPLE PLAY, a romantic comedy that was shot on 35mm scenic in scenic Newport Beach, California. DATING GAMES PEOPLE PLAY captures the unpredictable dating scene and has been compared to "Swingers" meets "American Pie." The Best Comedy Nominee at the 2005 World of Comedy International Film Festival, pokes fun at the very different perspectives that men and women have of dating and relationships, and shows the hilarious consequences. DATING GAMES PEOPLE PLAY, will be available nationwide on February 12, 2008, for a suggested retail price of $19.98.
The star-studded cast features Austin Peck, who currently plays Austin Reed on "As the World Turns". He was twice named "YM's 50 Most Beautiful Guys in the World" and "1 of the 5 most popular soap stars" in the world. Peck has appeared on many hit TV shows including "Charmed", "The District", "For the People," "Sabrina the Teenage Witch," and "Medicine", to name a few.
Nick Jenkins, (Peck) finds himself back in the single scene as his relationship with his fiancée abruptly falls apart. With his roommate and best friend Jed Rollins (Stefan Marc), Nick jumps back into the dating world. Soon after he meets Mona Evans (Leslie Bega, "The Sopranos"), his struggles begin. He is torn between building his business and becoming financially secure or committing to a relationship.
Jenkins (Peck) seeks the advice of his parents and George (Rick Scarry), an old-time player, who both strongly recommend that he stay single. However, when he does some investigating he realizes that marriages do have some "perks". Mona, Jed and Robin (Stephanie Brown) accompany him as they meander through the quagmire of awkward situations that they encounter during their dating escapades.
"The audience laughter was so loud I could hear it all the way in the projection booth, which hardly ever happens," said Carla Nolan, Festival Director, World of Comedy International Film Festival. DATING GAMES PEOPLE PLAY, is "a must see," said Shannon Gibson, Melted Together Magazine. "A hilarious comedy that captures how we all play dating games."
"Westlake Entertainment is extremely proud to debut DATING GAMES PEOPLE PLAY just in time for Valentines Day," said Larry Cohen, Principal of Westlake Entertainment. "It is a brilliant collaboration of romance and humor with an Award-winning cast," said Cohen. The seven-time Official Selection of the most prestigious Film Festivals has been compared to "40 Year Old Virgin."
Stefan Marc, director/writer/actor/producer of DATING GAMES PEOPLE PLAY has roots in Southern California via UCLA Film School and as a graduate of USC with a Bachelor of Arts in Economics. Critics raved Marc's production; "I Love 'Dating Games People Play', funny, funny, funny and so true, so true, every single man in America should see this film," said Debbie Elias of the Santa Monica Observer. DATING GAMES PEOPLE PLAY is "a hilarious romantic comedy, defining utterly real relationships in true Southern California style," said Blake Frino, OC Metro Magazine.
DATING GAMES PEOPLE PLAY has been honored as The Opening Night Selection at The Tahoe/Reno International Film. Veteran film and television actress Leslie Bega starred as "Valentina La Paz" on the HBO Emmy Award®-winning television series "The Sopranos" as Tony Sopranos' girlfriend. In addition Leslie plays Leah Banks on ABC's Emmy Award®-winning show "CSI". Leslie has also appeared in numerous other TV show such as "Head of the Class" and "C-16". She has also worked extensively in the motion picture arena working with stars such as John Travolta, Michael Douglas, Annette Benning and Anthony Quinn. Leslie has appeared in over 15 feature films including "Get Shorty", "American President", David Lynch's "Lost Highway" as well as many others.
Westlake Entertainment is a fully integrated, independent entertainment distribution company owned by industry veterans Larry Cohen and Luke Stefanko. Primarily engaged in licensing and distributing feature films and television programs, Westlake specializes in bringing new release content to retail. Westlake serves as a distributor for Cineville Films and Lonely Seal Releasing. For more information regarding Westlake Entertainment's product, visit http://www.westlakeent.com.
DATING GAMES PEOPLE PLAY
Street Date: February 12, 2008
Prebook: January 8, 2008
Item Number: WLV3651
UPC: 798622365125
SRP: $19.98
Rating: R
Running Time: 90 Minutes
Genre: Romantic Comedy
Format: DVD
For more information, contact:
J.D. Bowles @ JD@JDBConsultants.com
818-742-5880
Deb Sleezer at dsleezer@westlakeent.com
818-716-5822 x226
# # #