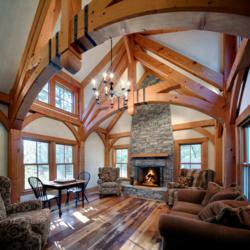 We are a sustainably focused company and we believe in what the FSC stands for as do our customers – from architects and builders to homeowners. They join us in protecting our natural resources
Farmington, New York (PRWEB) June 25, 2012
New Energy Works Timberframers, a leader in the timber frame industry, has earned Forest Stewardship Council (FSC)® Chain of Custody Certification. They are certified in three categories: FSC 100%, Mix, and Recycled. An audit, administered by the Forest Products Certification Group, LLC for Scientific Certification Systems, found the company met or exceeded all requirements and standards of the FSC.
"We are a sustainably focused company and we believe in what the FSC stands for as do our customers – from architects and builders to homeowners. They join us in protecting our natural resources by choosing companies like ours that embrace third party certification, high environmental standards, and responsible business practices," says Eric Fraser of New Energy Works.
The FSC certification also makes customers feel good about their purchases. New Energy Works client, Pamela Smith says, "I went to New Energy Works because of their unmatched craftsmanship and expertise with reclaimed timber. I also chose them for their commitment to sustainable practices. When I walk into my home, I feel good that I chose responsibly. I know the trees used for my home were from well-managed forests or reclaimed from dilapidated buildings. No chemicals were added to the air, and my dollars stayed in the US."
The FSC is an independent, non-governmental, not-for-profit organization established to promote the responsible management of the world's forests. This international certification system holds companies accountable for their inventory sourcing, manufacturing procedures, purchase of materials, and documentation. New Energy Works Timberframers have joined the Forest Products Certification Group which will perform internal annual audits and offer the company guidance on best FSC practices and compliance. The group operates under the FSC Trademark Certification Code FSC-C109137.
New Energy Works is looking forward to being an active member of the Forest Products Certification Group and taking advantage of their recommendations. "I have been on the front lines as a wood products production manager. I know what it's like to have new forms thrust upon me to comply with new rules, all while supervising employees, getting product out the door, keeping people safe and dealing with a thousand other things. Our group has been formed to take the sting out of small companies that want FSC certification," explains Robert Edmonds, Founder and CEO of Forest Products Certification Group.
Established nearly 30 years ago, New Energy Works Timberframers designs and builds environmentally responsible timber frames across the USA from their facilities in New York and Oregon. Offerings include: Timber Framing (design, engineering, manufacturing, build), Enclosure Systems, Fine Woodworking, Recycled and Sustainable wood products. New Energy Works has 2 LEED AP staff members, is a member of the US Green Building Council, and is FSC approved. All products are made in the USA.