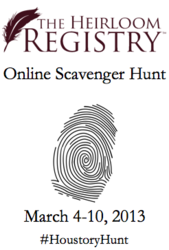 "The Heirloom Registry takes documenting family keepsakes into the 21st century with its simple and inexpensive method for recording heirloom histories." -- Denise Levenick
Ferndale, Wash. (PRWEB) February 26, 2013
Houstory's Heirloom Registry Scavenger Hunt (March 4-10) will feature approximately $500 in prizes useful to genealogists and family heirloom enthusiasts.
The latest prize donations include contributions from two highly respected voices in the family history community: Genealogy expert Marian Pierre-Louis, and family heirloom preservation expert Denise Levenick.
Pierre-Louis has provided CD copies of a Legacy Family Tree webinar entitled, "Plan Your Way to Research Success," while Levenick – also known as The Family Curator – has given a digital copy of her new book, "How to Archive Family Keepsakes."
"We are thrilled to have both Denise and Marian on board for the hunt," said Dan Hiestand, Houstory marketing director. "Simply put, they both know their stuff, and are very well thought of in the genealogy and family history world. We're proud to partner with them."
Houstory has worked closely with Pierre-Louis for several months as the sponsor of her Northeast history podcast Fieldstone Common.
"I am passionate about helping people explore their personal history and that of their house or local town," said Pierre-Louis. "The Heirloom Registry is committed to preserving the stories behind those histories. Partnering with Houstory on the scavenger hunt was a fun way to get genealogists and historians involved in recording family and house history in a hands-on way."
Additionally, Houstory partnered with Levenick late last year via a promotion with Family Tree Magazine. Levenick said The Heirloom Registry is a valuable tool for anyone interested in preserving family history.
"The Heirloom Registry takes documenting family keepsakes into the 21st century with its simple and inexpensive method for recording heirloom histories," said Levenick. "It's a perfect fit for the mission of The Family Curator blog – 'Preserving and Sharing Our Family Treasures' -- and I am delighted to help share this great program with readers of my blog through the Heirloom Registry Scavenger Hunt."
About Denise May Levenick
Denise May Levenick is the creator of award-winning Family Curator genealogy blog where she has written about her own family archive experiences since 2007. Denise inherited her first family archive from her grandmother – a trunk filled with photos, letters, documents, and lots of "miscellaneous stuff" and is now the caretaker of several family collections. She has adapted professional archival techniques to the family archive situation and shares her experiences in her new book, "How to Archive Family Keepsakes." She is a frequent contributor to Family Tree Magazine and presents online webinars and conference seminars on a variety of archival subjects.
About Marian Pierre-Louis
Marian Pierre-Louis is a house historian and speaker who specializes in southern New England research (Connecticut, Rhode Island, and Massachusetts). Born and raised in Connecticut, she has lived in Massachusetts for almost 20 years. Unlike most genealogists, Marian is spoiled to spend most of her time working with original records. You will most often find her researching at a town hall, registry of deeds, probate court or the local cemetery. In addition to authoring several blogs, Marian is the host of the weekly radio program, Fieldstone Common, which focuses on the history and genealogy of the Northeast. She also hosts the on-demand program (podcast) On-site Research New England.
About The Heirloom Registry
The Heirloom Registry is a new service from Houstory. Record a family heirloom's history in The Heirloom Registry, and its story travels with it. Always. Inexpensive, simple: Tag heirlooms with Registry IDs, and share stories in words and pictures at http://www.heirloomregistry.com. Registered stories are permanently accessible to future owners.
###