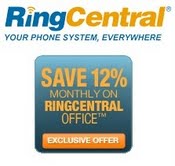 Potential customers can get 25% Off First 6 Months any RingCentral Fax plan and 12% Off the monthly rate for RingCentral Office.
(PRWEB) August 07, 2012
New exclusive RingCentral Office and Fax offers has just been featured on OnlineFaxGuide.com, an authority site on Internet fax and phone services. As part of its ongoing mandate to its visitors, OnlineFaxGuide presents all the latest discounts and promotions by the various fax providers, including the latest promotions from RingCentral.
RingCentral, which is a major supplier of phone, office and fax services for businesses, has recently offered some attractive discounts to entice potential customers to sample their services.
Mainly, any future customer can now get 25% Off First 6 Months any RingCentral Fax plan and 12% Off the monthly rate for RingCentral Office. There is also an offer of 25% Off for the first 6 months of the popular RingCentral Mobile service. Potential customers can receive great benefits and savings by taking advantage of these time limited offers.
"RingCentral has earned a very good reputation for quality service," says Titus Hoskins, a former teacher who now runs OnlineFaxGuide. "These latest promotions or offers, makes it even more enticing to try RingCentral's fax and office services."
Potential customers must also keep in mind, RingCentral is not just about phone or fax services, but offers a whole range of products which include virtual PBX, office and mobile services. Anyone starting up a home office or small business should at least consider this "virtual option" before investing or installing expensive hardware and equipment. It can be a quicker, cheaper and much greener alternative than going the traditional route.
....
About Us: Onlinefaxguide.com has been operating since 2006 and has helped thousands of individuals and companies find the perfect online fax solution for their needs. For more information on Online Fax and how it can benefit your company or business go here http://www.onlinefaxguide.com or simply Download our comprehensive fax guide. All products/companies mentioned above are registered trademarks of their respective owners and companies. Plus, as to the FTC Guidelines, potential users of any of these discounts and offers must know we are an affiliate of RingCentral and may benefit from purchases made through these discount links.