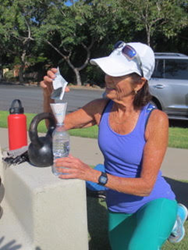 "We improvised and made funnels from airplane boarding passes, amusement park entrance tickets and paper towels all with limited success. These were the WORST options and we were stumped
SAN DIEGO (PRWEB) October 16, 2018
Those trying to stay healthy while on the go now have a cleaner, more effective, less expensive way to get every last granule of their powdered supplements. It's called Funnel Your Energy (https://www.funnelyourenergy.com/).
This innovative paper-foil funnel is just the right size to take everywhere. It provides a no-mess solution for athletes, fitness buffs and anyone who takes powdered nutritional supplements throughout the day.
Oftentimes people using these popular supplements aren't at home. They're either in the car, leaving the gym, at the airport or at work while they struggle to pour the powder into the narrow neck of a recyclable water bottle. The result is usually a lot of the product on the floor, in the car or on their clothes.
The makers of Funnel Your Energy are busy women and athletes themselves who know the struggle.
"We improvised and made funnels from airplane boarding passes, amusement park entrance tickets and paper towels all with limited success. These were the worst options and we were stumped," says co-founder Donna Duncan.
Their first breakthrough came when they crafted a funnel from the packaging paper of a nutritional supplement and duct tape. Buoyed by that success, they hired a team of designers and set out to create a product that could help others get their nutritional needs met while on the go.
The resulting product a 3 ½ inch wide by 3 ¼ inch tall funnel with a 1-inch mouth that can fit inside a wallet and cell phone case. Its portable size makes it easy to take anywhere giving those who rely on powdered nutritional supplements an easy way to take their routine on the road.
Funnel Your Energy is $6.97 for seven funnels, and is available for purchase through their website, http://www.funnelyourenergy.com