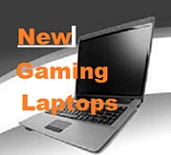 Bizwaremagic.com updates its gaming laptop pages to reflect new laptops and new laptop discount coupons.
(PRWEB) February 09, 2012
Recently, all webpages and information relating to gaming laptops were updated by Bizwaremagic.com, a ten year old site which runs a popular laptop buyer's guide. These new updates were done to reflect recent changes in the gaming marketplace and to give visitors a more informed view of what's happening with this fast moving high tech topic.
To further reflect these changes, Bizwaremagic also added a webpage dealing with the arrival of new gaming laptops such as the Razer Blade and the Samsung Series 7 Gamer. This new page is entitled "New Gaming Laptops Hitting The Battlegrounds - Should Alienware Be Worried?"
This new content discusses the introduction of the new very thin lightweight gaming notebook Razer Blade, which quickly sold out when the first batch was offered to eager gamers. Can this new "supposedly" portable gaming laptop give Alienware some extra competition in an already crowded marketplace or is this just the latest "gadget of the moment" and not a serious contender?
Plus, the gaming world is getting ready for the introduction of Intel's 3rd Generation Core Ivy Bridge processors which should be available later this year. These new CPUs will be faster and more energy efficient than the current Sandy Bridge processors. Samsung announced at this year's CES in Las Vegas, the upcoming US version of their Series 7 Gamer will sport these new Ivy Bridge processors.
In addition, other pages on the site were updated to reflect new gaming offers and coupons. Dell and Alienware are constantly offering new bargains on their popular brand models, even in this post-holiday season. Bizwaremagic has several pages dedicated solely to Dell Coupons and a whole page dedicated to just Alienware laptop and desktop coupons. If a potential buyer is purchasing their gaming laptop online, it's a smart move to first check out all these discount codes and coupons before they buy their notebook computer.
This special Alienware Discount Page can be found here: http://www.bizwaremagic.com/alienware_coupons_discounts.htm or download our comprehensive free laptop buying guide here: http://www.laptopcomputerguide.org All products/companies mentioned above are registered trademarks of their respective owners and companies.
###