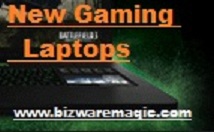 Anyone considering a gaming laptop, should check out these two new gaming notebooks - the Razer Blade and the HP ENVY dv6-7214nr.
(PRWEB) December 01, 2012
Recently, the Best Gaming Notebooks webpage on Bizwaremagic.com, was updated to include two new gaming laptops - the Razer Blade and the HP ENVY dv6-7214nr. The 10 year old Bizwaremagic site runs a handy online laptop guide which features a popular section on gaming notebooks and this content is regularly updated as new systems come onto the marketplace. In order to give its visitors a wide variety of choices, the site features pricier gaming models such as the Razer Blade, along side more affordable rigs such as the HP dv6-7214nr.
The new Razer Blade is sleek and powerful. The gaming notebook is less than an inch thick and weighs only 6.6 pounds, which for a high-end gaming laptop, is truly portable. As most gamers know, Razer is one of the biggest brands in gaming, especially when it comes to gaming peripherals and accessories. The company was founded in San Diego in 1998 by Robert "Razerguy" Krakoff and Min-Liang Tan.
The Blade comes with many innovative features such as the Switchblade UI or user interface - one not only has 10 dynamic adaptive keys which put all the controls and commands at the gamer's fingertips, but you also have a revolutionary LCD display which sits near the keyboard.
This screen has two modes - one displaying game information in full color and the other a multi-touch gaming track pad. The first mode offers some great advantages, such as browsing YouTube walk-through videos while one is playing a game, or use it to stay connected to all the social media networks and other gamers. For multitasking while one is gaming, it's perfect.
On the technical side, the Razer Blade comes with the Intel Core i7 (Ivy Bridge) Quad Core Processor at 2.2GHz with Turbo boost to 3.2GHz. It also comes with two graphics cards - Integrated Intel GMA HD and the dedicated NVIDIA GeForce GTX 660M with 2GB of GDDR5 ram. The system also uses NVIDIA Optimus Technology to get the best battery life for those who like their gaming on the go. In addition, it sports 8GB of 1333MHz ram, 256GB SSD and a Full HD 1920x1080 17.3 inch LED Backlit 16:9 Ratio display.
The smaller HP ENVY dv6-7214nr comes with the Intel Core i7-3630QM with base speed at 2.4 GHz and Turbo at 3.4 GHz. It sports 8GB of ram, the NVIDIA GeForce GT 650M switchable graphics with 2GB of fast GDDR5 ram and full HD anti-glare LED-backlit 1920 x 1080 15.6 inch display. In addition, the dv6-7214nr has a 750 GB hybrid (7200 rpm) hard drive. Other features include a Blu-ray DVD burner, full backlit keyboard and Beats audio. And if anyone is wondering about the name, older gamers will probably remember the Voodoo Envy or the VoodooPC brand, which was acquired by Hewlett-Packard in 2006.
This laptop gives the best value for money since it has many high-performance features, which one would have to pay more for on higher priced models. Some gamers have found the HP dv6-7214nr runs a little hot under intensive gaming, but an inexpensive cooling pad solves this issue. Anyone considering an affordable gaming notebook should take a close look at this one or if one's pocketbook is a little heavier, try the Razer Blade.
The special Bizwaremagic Best Gaming Laptops page can be found here: http://www.bizwaremagic.com/best_gaming_notebooks.htm All products/companies mentioned above are registered trademarks of their respective owners and companies.