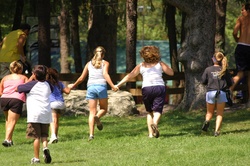 Winning the contest was so special to me because I knew that I would be changing my life forever
NORWOOD, N.J. (PRWEB) March 6, 2008
Children between the ages of 10 - 17 can submit an original essay of no more than 500 words on the topic: Imagine Me, I'm Up for the Challenge at New Image Weight Loss Camp. Entries are now being accepted. The contest deadline is May 15, 2008.
"Winning the contest was so special to me because I knew that I would be changing my life forever," said Nicholla Bratton, of Stone Mountain, Georgia, one of last year's winners. "The experiences I had at Pocono Trails are something that can never be replaced".
According to Tony Sparber, Owner, New Image Camps, "Today, childhood obesity is an epidemic. Those children and adolescents who are overweight are at risk for many health issues both in their youth and carrying over to adulthood including high blood pressure, high cholesterol, and Type 2 diabetes."
New Image Helps Campers Develop:
-- Self-esteem and integrity
-- Healthy eating and exercise habits
-- The ability to participate in sports without the focus on winning or losing
-- Long lasting friendships
New Image at Camp Pocono Trails is located on 350 private acres with a lake, and offers golf, tennis, swimming, boating, jet skiing, fitness training, dramatic arts, nutrionists, and a state certified professional staff and more!
In 2005, MTV spent the summer filming Pocono Trails Campers in the documentary, "Fat Camp". Cameras returned summer 2007 to film the sequel, "Return to Fat Camp" that is currently airing.
New Image offers three locations: Camp Pocono Trails in Pennsylvania; Camp Vanguard in Lake Wales, Florida; and Camp Ojai in California. The application and contest rules can be downloaded from http://www.newimagecamp.com. Winners will be announced on June 1, 2008.