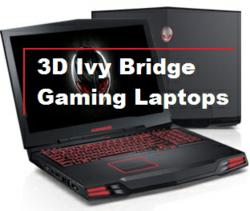 Several New 3D Ivy Bridge Gaming Laptops, Asus G75VW-DS73 & Alienware M17X R4, were recently added to 3D-gaminglaptops.com.
(PRWEB) May 21, 2012
Recently, several new 3D gaming laptops, empowered by Intel's 3rd Generation Ivy Bridge processors, were added to the 3D-gaminglaptops.com site. These new Ivy Bridge 3D laptops have the 22nm based CPUs, which is the latest computing platform from Intel and offers better over-all performance and much improved graphics than the former Sandy Bridge systems.
Laptop manufacturers, are quickly introducing these more powerful Ivy Bridge processors, into the latest computing systems being offered to the waiting public.
First one featured is the ASUS G75VW-DS73, from the very popular "Republic of Gamers" series of gaming rigs. It sports the Intel Core i7-3610QM (2.3GHz) Ivy Bridge processor and the powerful Nvidia GTX 670M graphics card with 3 gigs of GDDR5 RAM. This is all featured on a 17.3-Inch Full HD (1920x1080) LED Display and a 1.5TB 7200 RPM hard drive. It also has 12GB of DDR3 RAM and a Blu-Ray Burner.
Second, there is the Alienware M17X R4 17.3-Inch 3D Gaming Laptop, which also has the Intel i7-3610QM with 6MB Cache and up to 3.3GHz with Turbo Boost. The M17x R4 comes with 8 gigs of memory, 1TB 7200 RPM hard dive and features the Nvidia GTX 675M card with 2 gigs of GDDR5 RAM. Alienware is one of the most recognized names in computer gaming and is now owned by Dell.
It is fast becoming evident, these newly empowered Ivy Bridge gaming laptops, will offer much improved graphics according to PCWorld benchmark tests done on the new chips. Ivy Bridge also offers longer battery life, which should be a major plus, for any gamer who wants a more mobile gaming rig. However, these high-end machines, still come with hefty price tags that only those who can afford them will appreciate.
3D-gaminglaptops.com is an informative site, featuring all the latest information on 3D products and gaming notebooks. It keeps track of all this helpful information and offers it to its visitors. This updated 3D site can be found here: http://www.3d-gaminglaptops.com or download our comprehensive laptop buying guide here: http://www.laptopcomputerguide.org All products/companies mentioned above are registered trademarks of their respective owners and companies.