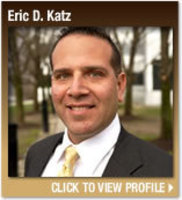 Roseland, NJ (PRWEB) September 26, 2007
New Jersey health care lawyer Eric Katz is pleased to announce the publishing of his new website, Provider Advocate, designed by Graphic D-Signs an award winning graphic designer.
Mr. Katz's new website includes numerous practical tips to physicians, dentists and other providers on how to increase the reimbursement they receive from managed care organizations, and how to tackle more easily the claims follow-up and collection hassles that have plagued New Jersey providers for years. For example, Mr. Katz offers real advice on how to navigate New Jersey's prompt payment laws and how providers may use these laws to their advantage. Mr. Katz also explains how a non-participating provider can establish his/her usual, customary and reasonable ("UCR") fees and get the managed care organizations to pay those fees.
New Jersey health care attorney Eric Katz is a senior partner at Mazie Slater Katz & Freeman, LLC, a leading New Jersey class action and trial law firm. Mr. Katz represents health care providers and their patients in all types of managed care disputes including, but not limited to UCR disagreements, prompt payment matters, unlawful bundling and downcoding of claims, improper coverage denials, class actions and managed care audits. Mr. Katz has recovered well in excess of $1 million over the last couple of years on UCR issues alone, which obviously translates into a significant influx of cash into small medical practices.
Mr. Katz has shaped the law in New Jersey on several significant issues that have beset New Jersey providers and continues to do so. He is the first attorney to successfully argue that the New Jersey prompt payment statutes provide physicians and dentists a private right of action to pursue money damages for non-payment of claims and statutory interest for late paid claims. Mr. Katz is also the first attorney to establish as a matter of law that health insurers failing to adhere to the strict requirements of the prompt payment laws waive their right to contest payment of claims even when the carriers might otherwise have a valid denial.
A leading New Jersey class action lawyer, Mr. Katz has been appointed lead class counsel in many managed care class actions. He is one of the first attorneys in the country to obtain class certification in arbitration against a managed care insurer and has filed a class action on behalf of patients against Horizon Blue Cross Blue Shield for its improper denial of benefits to victims of eating disorders, including anorexia and bulimia.
Mr. Katz is also a certified civil trial attorney, a distinction held by less than 2% of New Jersey attorneys and has received numerous personal awards and accolades including New Jersey Super Lawyers, Law Dragon and Million Dollar Advocates Forum. Mr. Katz is often interviewed by the media as a champion of the rights of health care providers and their patients.
New Jersey physicians, dentists and other health care providers who have a question or would like to make an inquiry regarding a managed care or reimbursement issue are welcome to visit Mr. Katz's new and innovative website, Provider Advocate and may contact New Jersey health care lawyer Eric Katz to discuss their issue without obligation. Results are not guaranteed and may vary depending upon particular circumstances.
###