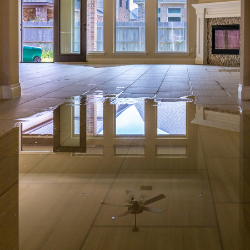 "The insurance policy clarification is good news for new home buyers, however, it does nothing for existing homeowners who have not read the fine print of their extant insurance policies. Homeowners might want to contact their insurance companies before hurricane season to see if they're covered."
CLEARWATER, Fla. (PRWEB) March 19, 2019
When Hurricane Michael hit Florida in 2018, the third-most intense Atlantic hurricane to make landfall in recorded US history, many residents were shocked to discover their insurance didn't cover damage caused by flooding. As Sen. Annette Taddeo, D-Miami recalls, "I met many constituents who had no idea that their hurricane coverage did not include protections when their homes flooded." As a result, she introduced the Senate version of bill HB 1011.[1] The new law went into effect the beginning of 2019, requiring all new homeowner' insurance policies to make clear if they do not cover flood damage. Randy Young, CEO of ArcDesign, residential design and drafting specialists, says, "The insurance policy clarification is good news for new home buyers, however, it does nothing for existing homeowners who have not read the fine print of their extant insurance policies. If not sure, homeowners might want to contact their insurance companies before hurricane season to see if they're covered."
Boston-based, Karen Clark & Company, an insurance company that produces models for catastrophes, is estimating Hurricane Michael caused about $8 billion in insured losses. It includes the privately insured wind and storm surge damage to residential, commercial and industrial properties and automobiles. The figure does not include losses covered by the National Flood Insurance Program.[2]
The Sunshine State has three times the homes at risk of flooding than any other state. When hurricane Irma struck Florida in 2017 3.3 million homes were damaged.[3] Now homeowner's flood insurance premiums are going up again — and under a new policy change, the Federal Emergency Management Agency is considering, premiums could skyrocket even more in coming years. Coastal communities may be hit the hardest. FEMA reportedly is looking into switching to risk-based pricing in 2020, which would end the subsidies most coastal communities presently enjoy on their flood insurance premiums and show the true dollar cost of living in areas pounded by hurricanes and drenched with floods.[4]
Randy Young of ArcDesign suggests another way to avoid damage due to flooding. "The best way to safeguard your home against flood damage, and at the same time lower your insurance premiums, is to elevate your house above the flood plain."
According to FEMA: Because so many elevation techniques are available, elevation is practical for almost any flood situation. In general, the most economical approach to elevating a house is to use as much of the existing foundation as possible. A design professional must evaluate the ability of your existing foundation to support the loads that will be imposed by the elevated house.[5]
For those that have homes in a flood zone, the "50% Rule," or Substantial Damage/Improvement Rule, states that a building must be elevated and brought into compliance if damaged by any cause for which the repair costs are 50% or more of the value of the building, and the building is both in a Special Flood Hazard Area and at a non-compliant elevation.[6]
If a home gets damaged and will cost more than 50% of the value of the house, homeowners are not allowed to repair their home without lifting it first. Young notes, "In the case of a heavy storm where extensive improvements are necessary, homeowners may be out of their home for years. Not only are the insurance companies slow handling all of the claims, but specialists available to lift homes would also be stretched very thin. Elevating the home before a storm hits, in addition to saving money on insurance, would protect their investment and their home."
About ArcDesign
ArcDesign, headquartered in Clearwater, Fl has been providing custom home design, renovations and permit designs for residents and contractors since 2003. With an unrelenting commitment to quality, they have been awarded the prestigious Best in Houzz Service Award six years running. Influenced by a multitude of 5-star reviews, clients often refer to ArcDesign as the home designers that people recommend. They excel in design, permits, additions, remodeling and rebuilding. ArcDesign also specializes in raising houses in flood zones to protect the homes from flooding. For more information visit: https://www.arcdesign7.net
1. Writer, Times Staff. "Florida Legislature 2018: What Passed and What Failed." Tampa Bay Times, 2018
2. Press, Associated. "Hurricane Michael's Destruction, by the Numbers." PBS, Public Broadcasting Service, 12 Oct. 2018
3. Passy, Jacob. "After Hurricane Michael, What Homeowners Need to Know about Disaster Insurance." MarketWatch, 13 Oct. 2018
4. Harris, Alex. "Your Flood Insurance Premium Is Going up Again, and That's Only the Beginning." Miamiherald, Miami Herald, 24 July 2018
5. https://www.fema.gov/pdf/rebuild/mat/sec5.pdf
6. FEMA's 50% Rule & How It May Affect Property, Wind vs Flood." Complete, Inc, 11 Feb. 2019