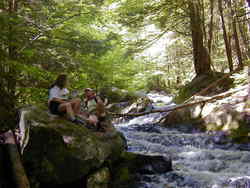 one of four great weight loss spas
Killington, VT (Vocus) January 6, 2009
New Life Hiking Spa will be open from May 14 - September 27 for the 2009 season and is now taking reservations. New Life Hiking Spa is a nationally recognized, affordable fitness and weight loss destination celebrating 31 years in business. Founded in 1978 by the director, Jimmy LeSage, M.S., New Life is one of the oldest and most established vacation package programs of its kind in the country catering to over 500 guests each spring through the fall season.
For guests booking a 2009 vacation by January 31st, a $20 discount will be offered per person per night.
The New Life Hiking Spa program accommodates approximately 40 guests at a time. Hiking options accommodate beginner, (along picturesque country settings) intermediate, (along the diverse terrain of the Appalachian and Long Trails) and advanced (challenges up the some of the highest peaks in Vermont) fitness levels.
New Life Hiking Spa is an all-inclusive vacation. Prices start at $209 per night and include spacious air conditioned room and private bath, three gourmet meals and nutritious snacks, nationally renowned hiking program (all levels), all exercise classes, massage and / or facials (one per three night stay), use of all facilities and participation in all programs (including cooking demos and lectures).
About New Life Hiking Spa:
New Life Hiking Spa is a nationally recognized affordable spa located in the beautiful Green Mountains of Vermont. Known for its exhilarating hiking program, a world renowned weight loss retreat, delicious healthy meals and a comfortable atmosphere, New Life Hiking Spa offers the chance to experience the peace of the outdoors in a down-to-earth, country inn environment. It is ideally suited for small groups, couples or individuals trying to improve their fitness level and eating habits. New Life is open each year in Killington, Vermont from mid May through the end of September. New Life offers a variety of vacation options including a 2-4 day mini-getaway, a 5-10 day Jump Start Program and the 11-day or longer Weight Loss Retreat. New Life Hiking Spa was chosen by MSNBC.com as "one of the top 10 destinations in the world to get in shape", by Shape Magazine as "one of the eight best weight loss spas", and by Health Magazine as "one of four great weight loss spas". For three years in a row New Life has won Best for Weight Loss and Best for Affordability by SpaFinder Readers' Choice Awards. More information can be found online at http://www.newlifehikingspa.com.
Contact:
Kathleen LeSage
802-353-0895
spalesage (at) yahoo (dot) com
###