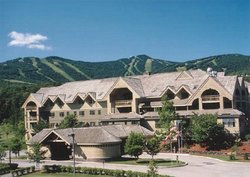 Now in its sixth year, our Readers' Choice Awards have become the industry's premier award program - the spa world's answer to the Academy Awards
Killington, VT (Vocus) December 8, 2008
SpaFinder, Inc., the global spa resource, has announced that New Life Hiking Spa has been named among the top-10 best spas in the world for Best for Boutique Spa in its sixth annual SpaFinder Readers' Choice Awards. Based on votes submitted by readers of SpaFinder publications, including Spafinder.com, the awards represent the most complete consumer assessment of the global spa market available today. Nearly 250,000 votes--a record for the Reader's Choice Awards--were cast for favorite spas by continent, country, region and across 25 categories.
"Now in its sixth year, our Readers' Choice Awards have become the industry's premier award program - the spa world's answer to the Academy Awards," said SpaFinder, Inc. President Susie Ellis. "Now that there are nearly 13,000 hotel, resort and destination spas operating worldwide, for New Life Hiking Spa to be singled out by our readers is a significant honor."
New Life Hiking Spa won in four categories for 2008. The categories are Best for Affordability, Best for Boutique Spa, Best for Weight Loss and Best for Hiking.
Ten Spas were chosen Best for Boutique Spa in the Prestigious 6th Annual SpaFinder Readers' Choice Awards. The ten spas chosen were The Ashram (California), Cal-a-Vie (California), COMO Shambhala Estate at Begawan Giri (Indonesia), Fitness Ridge Resort and Spa (Utah), The Hillcrest Victorian Inn, a Valenova Spa (Canada), Mii amo, a destination spa at Enchantment (Arizona), New Life Hiking Spa (Vermont), The Raj (Iowa), Ten Thousand Waves (New Mexico) and We Care Spa Juice Fasting and Spiritual Retreat (California).
To help spa consumers identify the best spas for their unique goals, SpaFinder asked its readers and web visitors to name their picks for the best spas in 25 specific categories - from "best accommodations" and "best cuisine," to "best for men" and "best urban hotel spa." New categories this year included "Best Spa Therapist" and "Best Spa Manager." In all, ballots were cast for more than 1,500 different spa properties worldwide. Voters were asked to only cast ballots for stay spas they've personally visited within the past three years.
Visit Spafinder.com for a Complete List of 2008 Readers' Choice Winners:
A complete listing of Readers' Choice Award winners will be featured in SpaFinder's 2009 Global SpaFinder, the definitive worldwide spa directory, and can also be viewed at http://www.spafinder.com/spaguide/readerschoice/2008.jsp.
About SpaFinder, Inc.:
The world's largest spa media, marketing and gifting company, SpaFinder, Inc. connects millions of wellness-focused consumers with thousands of spas worldwide. SpaFinder's media properties include the award-winning Spafinder.com, SpaFinder Lifestyle webazine, Spa Enthusiast, and the worldwide spa directory, Global SpaFinder. SpaFinder Gift Certificates and its new gift division, Spa & Salon Wish, offer spa gift certificates and cards that are redeemable at a combined network of over 7,000 spas and salons worldwide and are available at thousands of retail outlets. The company's software division innovates new solutions that help spas build and streamline their businesses, including the popular Spa Booker online booking system. SpaFinder Europe and SpaFinder Japan offer regional spa marketing and gifting programs, including localized, native-language websites. Founded in 1986, the privately held company is headquartered in Manhattan.
About New Life Hiking Spa:
New Life Hiking Spa is a nationally recognized affordable spa located in the beautiful Green Mountains of Vermont. Known for its exhilarating hiking program, delicious healthy meals and a comfortable atmosphere, New Life Hiking Spa offers the chance to experience the peace of the outdoors in a down-to-earth, country inn environment and is ideally suited for small groups, couples or individuals trying to improve their fitness level and eating habits. New Life is open each year in Killington, Vermont from mid May through the end of September. New Life offers a variety of vacation options including a 2-4 day mini-getaway, a 5-10 day Jump Start Program and the 11-day or longer Weight Loss Retreat. More information can be found online at http://www.newlifehikingspa.com.
###