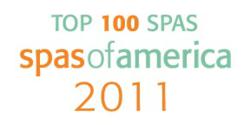 Killington, Vermont (PRWEB) January 13, 2012
The spa travel website, Spas of America, announced its annual ranking of the Top 100 Spas of the past year. The Top 100 Spas of 2011 includes 67 spas in the United States, 30 spas in Canada and one spa each from Mexico, Costa Rica and Italy.
"New Life Hiking Spa was our #1 Vermont Spa, #4 Destination Spa, and #18 globally. With over 800 spas on our website, your achievement really stands out," says Spas of America president, Craig Oliver.
The complete list of all 100 spas can be viewed at:
http://www.spasofamerica.com/lifestyle/wellness/spas_of_america_top_100_spas
About New Life Hiking Spa:
New Life Hiking Spa is a nationally recognized affordable destination spa for men and women located in the beautiful Green Mountains of Vermont since 1978. New Life offers a variety of all inclusive vacation packages and is known for its exhilarating hiking program, a world renowned weight loss retreat, delicious healthy meals and a comfortable atmosphere. New Life Hiking Spa offers the chance to experience the peace of the outdoors in a down-to-earth, country inn environment and is open each year from mid May through September in Killington, Vermont. Approximately 600 guests come each year from around the globe.
In January of 2010 & 2011, New Life Hiking Spa was selected as one of the top 10 fitness vacations in the world by MSNBC. New Life Hiking Spa was selected by Shape Magazine as "one of the eight best weight loss spas", and by Health Magazine as "one of four great weight loss spas". For Six years in a row (2006-2011) New Life has won Best for Going Solo, Best for Hiking and Best for Affordability by SpaFinder Readers' Choice Awards. In addition, Jimmy LeSage was also voted as one of the top ten Spa Managers in the world in 2011 by SpaFinder Reader's Choice Awards.
More information can be found online at New Life Hiking Spa's Website: http://www.newlifehikingspa.com or http://www.WeightLossSpa.com.
Contact:
Kathleen LeSage
802-353-0895
###