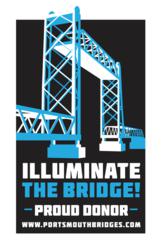 The new lighting plan will make a local icon even more striking and we're excited to be a part of it.
Portsmouth, NH (PRWEB) April 30, 2013
Harbour Light Strategic Marketing has designed a new iconic logo to help fundraising efforts for the illumination of the new Memorial Bridge. The bridge has been an icon on the Seacoast for over 90 years and the new bridge and illumination will build on that tradition. The bridge connects the communities of Portsmouth, NH and Kittery, ME.
"When Ben Porter asked us years ago to build a website for Save Our Bridges we jumped right in to help" said Ned Savoie, Creative Director with Harbour Light Strategic Marketing. "The Memorial Bridge is an important link for us, both professionally and personally. When we were asked to develop a new identity to raise funds for the lighting of the bridge there was never a question. The new lighting plan will make a local icon even more striking and we're excited to be a part of it."
The new logo was designed by Robert Squier, Senior Art Director at Harbour Light, and one of the most talented illustrators on the Seacoast. "The logo harkens back to the classic iconography of the Federal Art Project (FAP), a section of the Works Projects Administration (WPA)," stated Savoie. "The WPA helped pull the country out of the Great Depression in the 1930's, when the bridge was still new. It simplifies the elements and focuses the message to create a classic, memorable icon. Robert did an incredible job creating something timeless." The logo will be featured on decals to help the public identify businesses who have contributed to the lighting of the new bridge.
"As a company, we're committed to giving back to our community," said Jeff Whiteman, Director of Operations at Harbour Light. "It's always been part of our culture, and we're honored to be part of such a tremendous project. We're all looking forward to the opening of the bridge."
"This means a lot to me, personally," continued Savoie. "I live in Kittery and I work in Portsmouth and my favorite way to get to work is by bike. Many of us in the community use the bridge daily, and we can't wait to start using it again."
For more information on the bridge project, please visit http://www.saveourbridges.com and http://memorialbridgeproject.com
About Harbour Light Strategic Marketing
Harbour Light Strategic Marketing is an award-winning strategic marketing agency located in Portsmouth, NH. Since 1995, we've specialized in creating engaging marketing tools, successful brands, productive websites, unique advertising campaigns and other implements of success for companies around the block and around the country.