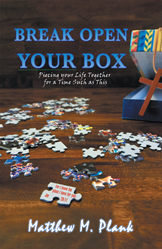 "God put a calling on my heart to write this book, and more importantly to spread the love of Christ as part of the Great Commission. There is no better time to respond to His calling than the present." - Matthew M. Plank
ANDOVER, Kan. (PRWEB) June 11, 2019
As a Christian of the millennial generation, author Matthew M. Plank is well aware of the issues surrounding younger generations' anxieties around social conformity, especially as they apply to their faith in God. With his debut book, "Break Open Your Box – Piecing Your Life Together for a Time Such as This", Plank presents his modern-day Christian perspective as he navigates the transition into adulthood. As a husband and father with a successful career, he also maintains a strong relationship with God, proving it is possible to give your best to God, as He has already given us the most precious gift – life.
A conversational and spiritedly written work, "Break Open Your Box" invites readers on a journey to better discover their purpose as they piece their lives together. Separated into four key segments that represent the puzzle pieces of our lives, the book reflects on role models and influences, relationships, vocation, and faith. Younger readers will find Plank's stories relatable and inspiring. Readers of all ages and belief levels will appreciate the puzzle analogy and pop culture references which circle back to important biblical heroes whose own stories help capture the essence of each piece.
"This book is all about giving your best to God," said Plank. "God put a calling on my heart to write this book, and more importantly to spread the love of Christ as part of the Great Commission. There is no better time to respond to His calling than the present."
"Break Open Your Box" illuminates the unconditional love Plank has discovered in God and the excitement he has found through writing his book. He is passionate about spreading the love of Christ and inspiring all of us to evaluate our own life, search for truth, discover our purpose, and utilize it to bless others. To learn more please visit http://www.breakopenyourbox.com.
"Break Open Your Box – Piecing Your Life Together for a Time Such as This"
By Matthew M. Plank
ISBN: 978-1-5127-9985-9 (sc); 978-1-5127-9986-6 (hc); 978-1-5127-9984-2 (e)
Available through Amazon, Barnes & Noble and WestBow Press
About the author
As a lifelong Christian, Plank trusted in God and allowed his faith to guide him to where he is today. Born and raised in Pittsburg, KS, Plank graduated from Pittsburg State University with a Bachelor of Arts in Psychology and from the University of Kansas with a Doctorate in Pharmacy. Practicing as a pharmacist, he enjoys the opportunity to build personal connections and help improve the health of those in the community. Plank and his wife Holly recently started their Advocare business and love coaching others to healthier lifestyles and inspiring them to be their best, while spreading their love for Christ to any and all. He is a member of NewSpring Church and the Sunrise Speakers Toastmasters Club, both in Wichita, KS and currently resides in Andover, KS with his wife and their two young children.
Interview & Review Copy Requests Contact:
LAVIDGE – Phoenix
Lauren Dickerson
480-998-2600
LDickerson@lavidge.com