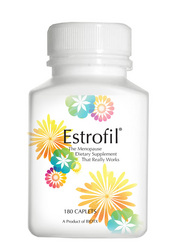 Seattle, WA (Vocus) June 21, 2010 –
Every woman experiences menopause differently because every woman has a different hormonal profile. Menopause symptoms are caused by a disruption in hormonal equilibrium and often a decrease in estrogen levels. For women seeking a natural solution for menopause relief without the risks of Hormone Replacement Therapy, there is a new option called Estrofil – http://www.estrofil.com. This plant-based menopause supplement is unique because it stimulates a woman's own body to resume production of estrogen, naturally. Estrofil isn't estrogen or Hormone Replacement Therapy. Estrofil contains only natural herbal ingredients shown to be safe and effective in more than a thousand years of Traditional Chinese Medicine.
While every woman is different, the following menopause symptoms are often identified by women as typical of their personal menopause experience as estrogen levels decline:

irregular periods (especially during perimenopause)
hot flashes
night sweats
vaginal dryness
mood swings
declining libido
weight gain
headaches
changes in hair quality
lack of energy
changes in skin
depression
incontinence
breast tenderness
fatigue
For women with declining estrogen levels, Estrofil offers many of the benefits of Hormone Replacement Therapy for the relief of menopausal symptoms without the risks. Estrofil encourages a woman's endocrine system (the body's own internal system of checks and balances) to naturally regulate proper hormone levels through its action on the adrenal glands, the hypothalamus and the pituitary gland – allowing the body's natural "negative feedback system" to regulate proper hormone levels and restore hormonal balance.
Because Estrofil is a plant-based menopause supplement, it doesn't work overnight. Instead of artificially by-passing the body's own hormonal control mechanisms like a pharmaceutical drug and subjecting the body to more estrogen than it should have, Estrofil naturally helps bring a woman's body back into hormonal balance safely over several weeks or months. This longer time period allows a woman's body to communicate its needs, adjust gently and respond to Estrofil appropriately on an individual basis.
Estrofil contains only the following plant-based ingredients:
Rehmannia (root tuber)
Chinese Dodder (seed)
Psoralea (fruit)
Chinese yam (rhizome)
Asiatic Dogwood (fruit without seed)
Ligustrum (fruit)
Tree Peony (root bark)
Asian Water Plantain (rhizome)
Poria (sclerotium)
BIOTX Limited, the manufacturer of Estrofil, provides a 90-day guarantee of product satisfaction. If, after taking Estrofil for 90 days, a woman's menopause symptoms or their severity are not reduced she can return the empty bottles for a full refund of the purchase price.
A 90-day supply of Estrofil is $99 plus shipping. Visit http://www.estrofil.com for more information or to order Estrofil. On Twitter follow @Estrofil
About BIOTX Limited
Founded in 2004, BIOTX Limited manufactures and develops new dietary supplements based on Traditional Chinese Medicine. The company works closely with the prestigious Tianjin University of Traditional Chinese Medicine in developing its proprietary formulations and produces dietary supplements under the strictest quality standards.
Media Contact:
For media product samples and high res images
Ria Romano, Partner
RPR Public Relations, Inc.
Tel. 786-290-6413
###