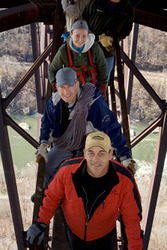 Bridgewalk: For The Walk Of Your Life
Fayetteville, WV (Vocus) October 7, 2010
The New River Gorge Bridge, one of the most iconic images in West Virginia, can now be explored on foot through "Bridgewalk," a program regulated by the National Park Service, West Virginia Division of Highways and ACE Adventure Resort.
"Bridgewalk: For The Walk Of Your Life" is a two- to four-hour tour where visitors can travel on a catwalk among the structural beams of the bridge 851 feet above the New River. The only other way tourists can experience the bridge on foot is on Bridge Day weekend which occurs annually in October.
"It will allow another access point to the bridge," said Benjy Simpson, Bridgewalk Manager. "Other possibilities will emerge for tourists, and it will enable people to view the bridge year-round."
Commercial tours began September 26 and will be available three times a day, weather permitting. As part of a post-Bridge Day celebration, tours will be running hourly on Sunday, October 17.
Simpson, who has coordinated the rappel and high-line activities for Bridge Day for 19 years, assures that the tour is completely safe. Guests will walk on the catwalk while attached to a safety harness.
"Walking on the catwalk can be frightening at times, but there is no way to fall," said Simpson.
Guests will walk on the catwalk under the bridge while attached to a safety harness. The catwalk is 24 inches wide and spans the entire 3,030 feet of the bridge.
Children as young as eight years old can take the tour and there are also plans to make "Bridgewalk" more accessible to people with disabilities in the future.
While tourists can enjoy the bridge as part of a half-day tour, planning the program was anything but simple. The end result is part of a 38-month effort by numerous individuals, businesses and government institutions.
"There is no road map for this," Simpson said. "It's a brand new project, and it hasn't been an easy road to travel but we've got it up and going."
Interested parties should contact ACE Adventure Resort for reservations at 1-800-787-3982 or http://www.aceraft.com.
###