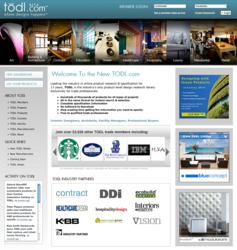 With TODL's intelligent technology, design professionals can spend more time creating remarkable spaces and less time flipping back and forth between print catalogs or searching through countless websites to locate products.
Clearwater, FL (PRWEB) May 19, 2011
(http://www.todl.com) — TODL introduces a completely redesigned library of products and services combined with innovative new features and tools to help today's busy design and architectural professionals minimize costly research time, organize projects more efficiently, and network with manufacturers and other trade professionals. Using TODL's re-engineered site, designers can instantly search and select from hundreds of thousands of products then store and track specification details, emails and images by project, and connect with manufacturers instantly. The new TODL features the same information designers rely on to simplify product research and specification now with more details, more categories and larger images delivered even faster. The integration of sophisticated project management and professional tools allows designers to stay on top of tasks and opportunities with the click of a button.
"We've spent the last nine months perfecting and testing our new interactive features and workflow tools with design professionals, and are incredibly excited to unveil the newest evolution of TODL," says Stacey Tiveron, founder of TODL. "With TODL's intelligent technology, design professionals can spend more time creating remarkable spaces and less time flipping back and forth between print catalogs or searching through countless websites to locate products and stay within project parameters."
Rich with the latest industry news, events, products, and design projects, the new TODL is much more than the design industry's first and largest online interactive library of products and specifications. It's the only platform that completely customizes the user experience and applies the best aspects of social media networking to the business of design, utilizing cutting-edge technology to streamline the design research and specification process. Everything related to a project can be stored online in organized folders in the designer's private and secure TODL account. Information is accessible 24 hours a day, 7 days a week from any computer so the business process isn't hindered by regular hours of operation.
"TODL helps keep designers and architects current and acts as a user friendly introduction to new and innovative products and sources in many areas of the market: even established companies they may have overlooked in the past," says Hayley Knapp, Interior Designer with HBA/Hirsch Bedner Associates. "In fact, just today I was looking for a new lighting source for a Miami hotel project and I received an email from TODL about a lighting company. I am now using them in my project. As we all know this is an ever growing and changing industry, and it's our responsibility as designers to evolve with it. The new TODL reflects the direction the industry is moving."
With the new TODL system, members can schedule appointments and keep a dynamic calendar of events and trade shows. Their industry calendar automatically populates with upcoming events that fit their professional demographic, keeping them in the know. Invitations to regional manufacturer events and relevant product news based on a designer's area of expertise are delivered directly to the designer's TODL messaging center, where all of their information requests and responses are stored and tagged by product and project.
"The new site is more effective in saving time and money for any company," says Kellee Makins, Interior Designer with Abbott Heys & Associates, Inc. "TODL can be your one stop shop for everything you need. You just type in a product and you have so many options to choose from without having to go from site to site. And, with the new feature of being able to save products to project folders, you'll always have the items you like at your fingertips. It's a great value for designers to save time on research."
The all-new TODL is a result of the progression of 13 years of unparalleled resources and industry experience exclusively dedicated to helping design professionals do their jobs faster, more effectively and profitably. Unlimited access to TODL is available immediately at no cost to qualified interior designers, architects, and other design trade professionals including facilities managers, landscape architects, builders, developers, and government purchasing agents. The more than 53,000 current TODL subscribers will be introduced to the redesigned portal gradually over the next few weeks.
"There's just no other online resource that compares to TODL," says Janet Schlembach, Design Project Manager for Patrick Knowles Design, the top design firm specializing in custom yacht and custom aircraft interiors. "The new site is fantastic. It's much faster and easier to zero in on exactly what you need."
Tiveron says the company remains dedicated to leveraging new technologies to enhance TODL's digital performance allowing TODL to continue to lead the professional online design evolution with services and tools that make a meaningful difference to both design professionals and the manufacturers, showrooms, reps, industry magazines and the trade shows that service them.
About HBA/Hirsch Bedner Associates:
World-renowned as the "Number 1 Hospitality Design Firm" (Interior Design) and winner of six record-breaking awards (2010 Hospitality Design Awards), HBA unveils the world's most anticipated hotels, resorts, and spas. Leading the hospitality interior design industry since 1964, HBA's international presence, depth of experience, and detailed industry knowledge enables them to identify interior design trends at their source, make definitive predictions about new directions and innovations, and influence design standards at a global level. http://www.hba.com
About Patrick Knowles Designs:
Patrick Knowles Designs is an award-winning interior design firm specializing in custom yacht and custom aircraft interiors. Founded in 1998 by Patrick Knowles, the firm has earned a global reputation for excellence among leading custom yacht builders as well as private aircraft manufacturers. Industry recognition of Patrick Knowles' yacht interior design work includes the prestigious World Superyacht Awards Judges' Commendation, ShowBoats International Awards for Best Design and Best Refit as well as several award nominations from both the International Superyacht Society and ShowBoats International. Based in Fort Lauderdale, Florida, Patrick Knowles Designs works with a select group of discerning clients around the world. http://www.patrickknowlesdesigns.com
About Abbott Heys & Associates Inc.:
Abbott Heys & Associates is an award-winning firm whose philosophy is to design from the inside out, complimenting design rather than overwhelming it. With their team of dynamic architects and designers, Abbott Heys & Associates design exteriors and interiors simultaneously creating site-sensitive architecture with thoughtful, expressive interiors for all types of projects including commercial, multi-family, hospitality and residential. http://www.aha-arch.com
About TODL.com (Trade Only Design Library, Inc.):
Leading the design industry in online product research and specification since 1997, TODL is exclusively available to qualified design professionals, providing its services to more than 43,000 verified design and architectural professionals and over 10,000 design and architectural faculty and students from more than 500 schools and universities worldwide. TODL connects design professionals, manufacturers, reps, dealers, showrooms, industry magazines and trade shows in efficient and meaningful ways, assisting industry participants in leveraging technology to intuitively connect at the moment of research and specification.
For more information about TODL, contact:
Elinor Kinnier
Inspired Mind Marketing Communication & PR
Elinor(at)inspiredmindsolutions(dot)com
703-577-8238
or
Erik Cocks
VP Marketing
TODL.com, Trade Only Design Library, Inc.
erik(at)todl(dot)com
727-441-2060 main / 727-441-2065 fax
1150 Kapp Drive, Clearwater, Florida 33765
###