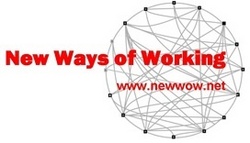 We will not delude ourselves into believing that we will clear this all up in a research paper and symposium. Our hope is to at least get a clear understanding of different approaches to measuring work and work performance
Los Gatos, CA (Vocus) September 1, 2010
New Ways of Working, (NewWOW), a member organization focused on alternative workplace solutions, announced plans for its research effort for the next year. Thought leaders in the organization investigate and summarize the academic research literature in specific topics areas each year. The organization identified two topics for deep dives:

Measuring Work and Work Performance
Innovation and New Ways of Working
Measuring work and work performance
Measuring work and work performance is a difficult topic – one that has been mired in misconceptions, misunderstandings and a plethora of seemingly contradictory definitions and approaches. "We will not delude ourselves into believing that we will clear this all up in a research paper and symposium. Our hope is to at least get a clear understanding of different approaches to measuring work and work performance," said Joe Aki Ouye, co-founder of the New Ways of Working Network.
Researchers will examine three main areas:

The need and challenges of measuring work and work performance
An overview and comparison of the various approaches
Recommendations for next steps/further research
Following initial research and the preparation of a summary, members of the Network will convene for a three-day in-depth investigation of the research theme. The symposium, NewWOW's 10th, will be held in February 2011.
Innovation and New Ways of Working
NewWOW's second research theme, Innovation and New Ways of Working, will investigate how to plan social, technological, and physical milieus for greater group innovation and creativity. This project will begin shortly after the February 2011 symposium and culminate at the summer 2011 symposium. It's always been a challenge for companies to push their design and research groups to lead the pack with the best and most innovative products and services and Innovation becomes even more difficult as groups become larger and more dispersed globally.
The research will be guided by these questions:

What are the important elements of the group milieu that make a difference? For example, leadership, group culture, collaboration technologies, management, policies, work practices, distribution and design of workplaces.
How do each of these elements enable/discourage group innovation?
How do organizations measure the impacts of interventions on group innovation?
In addition to the two main research themes, the organization plans quarterly virtual roundtables. Future topics include:

Problem: An organization needs to increase its workforce by 50% while shrinking real estate holdings, how do they do it?
Innovation – How do organizations plan group work milieus (management, work practices, technologies, and workplaces) for innovation and creativity?
About New Ways of Working Network
The New Ways of Working Network is a membership organization of thought leaders from companies and academia exploring new ways of working such as distributed work (telework), environmental sustainability and work, cross-cultural work, innovation and productivity.
###