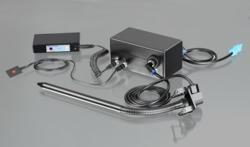 "Our goal with The PUMP is to facilitate mobility, enable self-sufficiency, and encourage independence for people with a spinal cord injury," said Robert D. Vernon, CEO of BIOTX Ltd.
Seattle, WA (Vocus/PRWEB) April 12, 2011
Emptying a leg bag without assistance is often a major obstacle for an individual a with spinal cord injury. The new power wheelchair accessory - The PUMP™ http://www.wheelchair-freedom.com/ - from BIOTX Ltd. allows people with a spinal cord injury to independently empty their leg bag into a toilet or urinal at a touch of a button. Designed primarily for urinary leg bag users with tetraplegia or quadriplegia, The PUMP will also benefit those who are paraplegic and have difficulties in emptying their urinary leg bag. In addition to freedom, The PUMP offers several health benefits to the leg bag user.
By frequently empty their leg bag with ease, individuals using The PUMP are able to stay well-hydrated and drink as much as they desire – or the doctor recommends. This allows people with a spinal cord injury using a leg bag to avoid urinary tract infections caused in part by insufficient fluid intake. Proper hydration also is important for those with spinal cord injury to avoid hypotension. Fluid intake is no longer restricted for those with a urinary leg bag when using The PUMP because they can quickly and easily empty a full leg bag on their own. In addition, a full leg bag that cannot be emptied can cause Autonomic Dysreflexia (AD), and being able to avoid this potentially life-threatening condition offers users and their families welcome peace of mind.
To avoid the risk of AD, it is vital that the free flow of urine from the bladder be maintained at all times, and therefore emptying a full leg bag is a critical function. AD, also known as autonomic hyperreflexia, is a potentially life threatening condition for leg bag users which requires immediate attention. It occurs most often in individuals with a spinal cord injury with spinal lesions above the T6 spinal cord level. Acute AD is a reaction of the autonomic (involuntary) nervous system to overstimulation. It is characterized by severe paroxysmal hypertension (episodic high blood pressure) associated with throbbing headaches, profuse sweating, nasal stuffiness, flushing of the skin above the level of the lesion, bradycardia, apprehension and anxiety, which is sometimes accompanied by cognitive impairment. The PUMP makes emptying the leg bag easy and convenient, thus reducing AD risk.
The PUMP attaches to the outlet of the leg bag and directs the flow of urine out through the tip of a flexible Wand. A switch activated by the user turns the Pumping Unit on and off, and an ultra compact 12-volt Lithium Polymer Battery powers The PUMP for up to five days with an overnight charge. It installs easily and quickly on virtually any power wheelchair. When the urinary leg bag is full, maneuver the wheelchair within arm's length of a toilet or urinal and extend the Wand. Press the Switch twice to activate the Pumping Unit and urine will flow from the leg bag and exit from the tip of the Wand. When the leg bag is empty, press the Switch once to turn off the Pumping Unit and return the Wand to its stowed position. Cleaning The PUMP™ is easy - a Rinse Kit is provided which includes a highly concentrated cleaning fluid and a custom standing pouch.
The PUMP is $350 plus shipping and handling. The cost of The PUMP is fully reimbursable under Medicare. For consideration for reimbursement by a private insurance company, BIOTX Ltd. recommends individuals obtain a prescription for The PUMP from their primary care physician or rehabilitation hospital and submit it together with the sales receipt for The PUMP. As with all insurance companies, coverage is evaluated on an individual basis.
Visit The PUMP for more information. Join The PUMP on Facebook at WheelChair Pump or follow us on Twitter at WheelChairPump.
Media Contact:
Ria Romano, Partner
RPR Public Relations, Inc.
Boca Raton, FL
(Direct 786-290-6413)
# # #