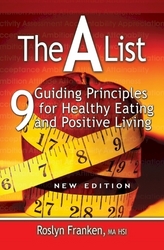 Our booming $50 billion diet industry in North America is clearly in much better shape than the growing market it serves.
Ottawa, ON (Vocus) December 31, 2009
The worldwide incidence of obesity is increasing to 64% of the American and 47% of the Canadian adult population. In fact a new word – "globesity" has now been coined to reflect the escalation of global obesity and overweight. Cancer survivor and once overweight, Roslyn Franken found a way to get her health and weight on track.
"Our booming $50 billion diet industry in North America is clearly in much better shape than the growing market it serves", explains Roslyn Franken.
Franken recommends three solutions to turn your New Year's weight loss resolutions into reality without diets, pills and gimmicks and without going hungry or feeling deprived:
1. Drop the deadline: Don't set a hard and fast deadline by which you MUST lose the weight by. This only adds pressure creating self-inflicted stress. If you don't reach your goal by the deadline, you'll feel like a failure and unable to celebrate any weight that you did mange to lose. And what will you do to feel better? You'll turn to food for comfort and gain back all the weight and more.
2. Quit the Quick Fix: Stop going on and off diets, pills, shakes and menu plans that promise fast and easy results. If it says "fast and easy", run for the hills. You may get quick results, but they won't last. Instead, take it slow and steady.
3. Lighten up: Be kinder and more forgiving toward yourself. Taking the pressure off to be perfect all the time will help you lighten up long-term for a healthier body and happier heart.
About Roslyn Franken
Roslyn Franken is author of "The A List: 9 Guiding Principles for Healthy Eating and Positive Living." She is a Weight Loss Coach and Motivational Speaker on positive living solutions for greater health, success and quality of life. She hosts How to Thrive After 35 Internet Talk Radio and is co-author of Death Can Wait: Stories from Cancer Survivors.
Diagnosed with cancer at age 29, Franken fought back to become a long-term cancer survivor. Then at age 39, at her heaviest weight ever, and concerned for her health, she decided to fight back once again, only this time to overcome her battles with food and weight once and for all.
Roslyn owns Roslyn Franken Group, committed to helping people lighten up their lives one bite at a time by reaching and maintaining a healthy weight, balanced lifestyle, and positive outlook.
For more information, visit http://www.roslynfranken.com or view her video at http://www.roslynfranken.com/highlights.wmv.
Contact:
Elliott Smith
(613) 843-0155
# # #