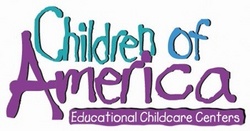 With each successful opening we draw closer to our goal of becoming a well-recognized 75-unit national childcare provider
DELRAY BEACH, Fla. (PRWEB) October 30, 2008
"We developed an aggressive growth plan to open a number of childcare centers in new markets this year and are making tremendous progress with our efforts," states Children of America President and CEO Thad Pryor. "These openings in New York and Maryland establish our presence in six states and we look forward to continued expansion there and throughout the northeast."
A favorite among parents for well-developed key age group curriculums and attentive teachers, Children of America enrolls children from six weeks to 12 years old. All centers offer safe and creative environments designed to encourage learning and promote development.
"We follow specific guidelines to ensure that each of our centers will serve area parents and their children in the best possible manner," said Jim Perretty, Children of America vice president and COO. "From our specially designed classrooms and playgrounds to our proprietary curriculums we are focused on the wellbeing of all of our students."
Children of America childcare centers are equipped with state-of-the-art security systems. Each location utilizes additional safeguarding measures such as assigning each child a Personal Identification Number (PIN) that signals their arrival and departure and an Internet access program, AlwaysCloseBy.com which allows parents to check-in on their children throughout the day via streaming video in classrooms and play areas.
"With each successful opening we draw closer to our goal of becoming a well-recognized 75-unit national childcare provider," adds Pryor.
Children of America will open four centers in New Jersey, Pennsylvania and Virginia by the end of the year.
About Children of America
Founded in 1999, Florida-based Children of America is a leading provider of high-quality childcare and after-school programs with 22 centers in Delaware, Maryland, New York, New Jersey, Pennsylvania and Virginia and more than 500 employees. For more information about Children of America, visit the Website at http://www.ChildrenOfAmerica.com.