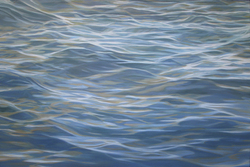 Foster has a distinctive touch, an immediate recognizable style….Her art is about water, the elusive truth of its appearance or it is about that elusiveness
New York (PRWEB) September 29, 2009
The Fischbach Gallery is pleased to present Waterway, the recent paintings of Fredericka Foster, opening 15 October and continuing through 14 November 2009. The gallery is at 210 Eleventh Avenue, 8th floor, and is open Tuesday through Saturday from 10-5.
Influenced by the palettes of Vermeer and Turner as well as Whistler and Sargeant's world of grays, Foster brilliantly depicts the nature of water and its constant flux. Waterway represents a nine year project based on an outgrowth of a series of paintings related to impermanence and interdependence, initially directed towards symbols common to all Spiritual paths. Foster views water as the archetypal visual metaphor for interdependence, assuming a structure driven by myriad of influences upon it, physical and organic. The structure of any body of water is constantly changing, due to wind, tides, and living and inanimate entities contained within it. The subject emerged from Foster's history, having been raised in the Puget Sound area and pursuing a meditation practice that informs her paintings.
Foster affirms that her spiritual path resonates with her aesthetic experience, and each increases the clarity of the other: "My longing to connect with the ineffable invites the magic light on water. Water Structure is constantly changing, as is the constant motion and flow of thought, thus meditation allows us to see our mind reflecting our essential water nature. Painting water is to move into a separate, nonlinear field of consciousness dealing with the visual correlate of the driving characteristic of physical reality, interdependence." -- Foster 2009
Foster uses layers of complementary generally muted oil colors, blending them to a heightened complexity of color, creating a shimmering, constantly flowing effect. For Foster the depiction of an ever-changing subject demands an intuitive process of amplifying subtleties, from choosing restrained color correspondences to enhancing perceivable detail like reflection and surface topography. "Foster has a distinctive touch, an immediate recognizable style….Her art is about water, the elusive truth of its appearance or it is about that elusiveness" -- Carter Ratcliff 2009
Fredericka Foster received her B.A. in art from the University of Washington in 1972. This is her forth exhibition at the Fischbach Gallery. She currently resides in New York City. A color catalog with an essay by Carter Ratcliff will accompany this exhibition.
The Fischbach Gallery is located between 24th and 25th streets at 210 Eleventh Avenue. The gallery hours are Tuesday through Friday, 10:00 to 5:30, Saturday 10:00 to 6:00. Subways: C,E to 23rd Street; A,C,E to 14th Street; L to Eighth Avenue; 1, 9 to 18th, 23rd, 28th Streets. Bus: 23rd Street cross-town bus to 11th Avenue. Water taxi: Chelsea Piers. For further information please contact the Gallery or visit http://www.fischbachgallery.com.
For additional information about Fredericka Foster's October exhibit, contact the Fischbach Gallery or visit http://www.thinkaboutwater.com
Contact: Larry DiCarlo, Director - Partner
Fischbach Gallery
212 759 2345
or Fredericka Foster 212 358 7694
###