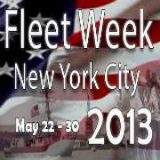 Times Square hotels, like The Milford, have many money-saving special offers to welcome the 1,000's of visitors to New York's Fleet Week.
New York, NY (PRWEB) April 18, 2013
Fleet Week is a hugely popular New York event that draws visitors from all over the country. The Milford - A Times Square Hotel is offering money-saving specials offers to visitors visiting NYC for this amazing New York event. View details or book now.
Fleet Week 2013 will take place from May 23 through May 30. Many exhibits and ship tours are free of charge. Concession stands will be located throughout the New York event area. For more information, call the Navy Office of Information at: 212-784-0130.
Since 1984, the U.S. Navy, U.S. Coast Guard, U.S. Marines and international navies have joined together in the special New York event called Fleet Week. This New York event is intended to pay homage to this country's very rich naval and maritime history.
This New York event includes many exciting exhibits that most people won't have a chance to see anywhere else. In addition to the ship tours, visitors will view fighter jet flyovers, watch Marines as they display their martial arts skills, see Coast Guard drug dogs put on live demonstrations and have the chance to chat with some of the 10,000 sailors, marines, soldiers and coast guardsman that will be in the city for this event.
Visitors who plan to take a ship tour should keep the following in mind:

Bags will be searched before boarding the ship. Searches similar to those given when boarding an airplane will also be conducted.
Be sure to wear comfortable clothes and shoes. Also, visitors should keep in mind that they will be walking up steep ladder-like stairwells. For this reason, women may want to wear pants instead of a skirt.
Steep ladders will be part of the tour. Those who may have difficulty navigating these stairwells may not be able to take the tour.
Ship tours are not handicap-accessible. There are, however, many other Fleet Week exhibits that are handicap accessible.
Strollers, cans, bottles and weapons of any kind are not allowed on the ships. Visitors will be allowed to bring a small water bottle, diaper bag and handbag.
Ship tours are available during Fleet Week on Thursday through Tuesday from 8:00 a.m. to 5:00 p.m. The lines will likely be shut down at 3:00 p.m. Lines can get quite long, so visitors should try to get there early to ensure a spot on one of the tours.
About The Milford - A Times Square Hotel:
The Milford is located in the heart of New York City's Times Square and next to the Broadway Theater district, many New York restaurants, New York shopping areas and New York City tours.
This historic Times Square hotel is undergoing an extensive $140 million renovation to include each of the 1,300 guest rooms and guest suites, lounge, fitness room, lobby area and all common areas of the hotel.
This Times Square Hotel is perfectly located near all the New York activities and New York attractions that brings visitors to New York from all the world over: Jacob Javits Convention Center, the Financial District, Madison Square Garden, MOMA, Central Park, the Rockefeller Center, Greenwich Village, and much more is within minutes by walk or ride. Come see the best of New York and stay at The Milford – the favored destination for a Times Square Hotel.
Visiting New York? Choose The Milford - A Times Square Hotel.
View our current Times Square Hotel Specials.
Check Rates, Make Reservations or call toll free: 888-352-3650.
Take a Photo Tour of The Milford - A Times Square Hotel.