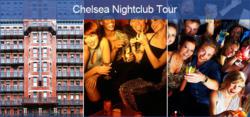 Dennis Barbarito was our tour guide last night and I can't even describe how much fun we had. He described the history of the homes, good restaurants to eat at, and where to shop. Definitly got more than I paid. - Hurrcane423 (tripadvisor.com)
New York, NY (PRWEB) June 09, 2012
New York City Visitors from across the world are getting an insider introduction into the New York City Nightlife scene through a series of New York Tours that introduce visitors to the range of NYC nightlife options, previously only available to locals with insider knowledge and connections. Uncle Sam's New York's line of New York City Pub Crawls and Nightclub Tours gives guests
There are thousands of bars in New York City, but most of the best ones lie far away from Times Square and the hotel district where most guests of NYC stay. The best bars in New York City, with the most history, charm and character, are hidden deep in the heart of neighborhoods that only locals frequent. Also, many guests to New York City find that going out without a group can be quite intimidating. Uncle Sam's New York has solved this problem by offering New York City Pub Crawls that introduce visitors to the best local bars in the city.
Unlike other pub crawls, these tours are offered on a weekly basis for groups as small as just the solo traveler, all the way up to groups of 20 guests. Uncle Sam's New York offers three pub crawls week: the East Village Pub Crawl on Monday nights explores the oldest bars in New York City; the Hell's Kitchen Pub Crawl takes travelers back in time to the notorious gang land warfare that used to dominate the West Side of Manhattan; the West Village pub crawls gives guests a chance to live NYC through the eyes of their favorite artists, including Bob Dylan and Jack Kerouac.
The New York City Nightlife scene is one of the toughest in the world to navigate, even for locals of the city. Guests typically have to wait for up to an hour in lines and then be on the right guest list, with the right amount of people in their group to get into the top nightclubs. Only locals with great connections are able to get in without any trouble. For tourists visiting New York City, the nightclub scene is usually far too intimidating to even attempt. Uncle Sam's New York offers a weekly nightclub tour every Saturday Night to guests from across the world, that offers free admission to a lounge and top NYC nightclub, as well as 2 free drinks. This tour has proven so popular that the reviews of guests have helped to propel Uncle Sam's New York to a ranking of #31 on Tripadvisor.com
Uncle Sam's New York, founded in 2009, has quickly established itself as the leading provider of New York Walking Tours, picking up where the big bus, water, and bicycle tour companies leave off - on foot. Founded by avid traveler, Samuel P.N. Cook, who has been to over 20 countries around the world, Uncle Sam's New York's mission is to help guests "Experience New York City, meet new people, and go home with a story." Uncle Sam's New York fulfills this mission by offering a wide range of regularly scheduled New York Walking Tours, World Trade Center Tours, New York Pub Crawls, New York Shopping Tours, and Private Luxury Tours. Uncle Sam's New York also accommodates large groups for educational or entertainment purposes on any of its publicly listed tours.