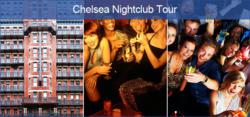 Amazing way to explore some of the little bars in NYC. Guide, Michael Jascz was brilliant, very informative and funny! Would highly recommend to anyone looking to do something a little different in NYC!!- Jade Cousland (TripAdvisor)
New York, NY (PRWEB) June 22, 2012
New York City Visitors are seeing a new line of diverse tour offerings through New York Tours that introduce visitors to the best of New York City Nightlife and Shopping, which are usually only something that New York Locals who have inside connections are able to master. Uncle Sam's New York's line of New York City Pub Crawls and Nightclub Tours gives guests an insider look at the best that New York City has to offer in fashion and nightlife.
There are thousands of bars in New York City, but most of the best ones lie far away from Times Square and the hotel district where most guests of NYC stay. The best bars in New York City, with the most history, charm, and character, are hidden deep in the heart of neighborhoods that only locals frequent. Also, many guests to New York City find that going out without a group can be quite intimidating. Uncle Sam's New York has solved this problem by offering New York City Pub Crawls that introduce visitors to the best local bars in the city.
Unlike other pub crawls, these tours are offered on a weekly basis for groups as small as just the solo traveler, all the way up to groups of 20 guests. Uncle Sam's New York offers three pub crawls week: the East Village Pub Crawl on Monday nights explores the oldest bars in New York City; the Hell's Kitchen Pub Crawl takes travelers back in time to the notorious gang land warfare that used to dominate the West Side of Manhattan; the West Village pub crawls gives guests a chance to live NYC through the eyes of their favorite artists, including Dylan Thomas and other famous artists.
The New York City Nightlife scene is one of the toughest in the world to navigate, even for locals of the city. Guests typically have to wait for up to an hour in lines and then be on the right guest list, with the right amount of people in their group to get into the top nightclubs. Only locals with great connections are able to get in without any trouble. For tourists visiting New York City, the nightclub scene is usually far too intimidating to even attempt. Uncle Sam's New York offers a weekly nightclub tour every Saturday Night to guests from across the world, that offers free admission to a lounge and top NYC nightclub, as well as 2 free drinks.
An imaginative idea stimulated by the "Toy Story" movies is ensured to win over and treat guests to the Big Apple of all generations. Feel inspired and check out the magic and marvel of being a child one more time with the new Toy Story Voyage run by Uncle Sam's New York Tours. The three-hour tour is one of the four New York Shopping Tours delivered by the company. The Toy Story Tour will guide tourists on a New York excursion to the city's most unparalleled toy and concept stores. Participants on this grand tour will be treated like a VIP without the hassle of waiting on notoriously long lines of New York City Toy Stores.
New York stylist, Janet Racy, who manages the shopping tour division of Uncle Sam's New York Tours, constructed the Toy Story Tour for the young at heart. "I have always loved children," said Janet Racy, "and this tour gives moms and dads a shot to relive the magic of their childhood years while also seeing the toys that are the object of their children's wants. It is a unique opportunity for parents and children to share the magic of toys in the retail capital of the world."
Uncle Sam's New York, founded in 2009, has quickly established itself as the leading provider of New York Walking Tours, picking up where the big bus, water, and bicycle tour companies leave off - on foot. "Experience New York City, meet new people, and go home with a story." Uncle Sam's New York fulfills this mission by offering a wide range of regularly scheduled New York Walking Tours, World Trade Center Tours, New York Pub Crawls, New York Shopping Tours, and Private Luxury Tours. Uncle Sam's New York also accommodates large groups for educational or entertainment purposes on any of its publicly listed tours.