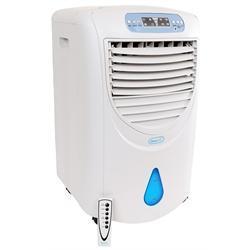 We're excited about the NewAir AF-330 promotion. The world is becoming more sensitive to the term 'green' and what it means to our environment
Los Angeles, CA (PRWEB) July 4, 2009
Leading home appliance retailer Air-N-Water.com has just announced a significant price reduction on one of this summer's hottest cooling appliances: the NewAir AF-330 portable evaporative cooler.
During a time when prices on many goods from cars to food to fuel have escalated faster than incomes have risen, Air-N-Water has made a bold decision to reduce the price on one of its most popular products. This news comes as a big surprise to many shoppers as http://www.Air-N-Water.com already features attractive prices that are significantly lower than much of its competition.
For the month of July, the NewAir AF-330 will be slashed from $139.95 to only $99, making this one of the company's most dramatic price cuts since the summer officially began. This evaporative cooler (also known as a "swamp cooler") utilizes the natural cooling power of evaporation. Only tap water and 120 volts of electricity are required to operate the unit. Best of all, because this air cooler drops temperatures using a natural cooling process, no harmful greenhouse gases -- like CO2 expelled from traditional air conditioning systems -- are released into the air.
"We're excited about the NewAir AF-330 promotion. The world is becoming more sensitive to the term 'green' and what it means to our environment," said Jeanie Wong-Vierling, a representative for Air-N-Water. "At only $99, we hope this will convince many people to try evaporative cooling as an alternative to air conditioning."
The NewAir AF-330 embodies flexibility and superior performance in one cooling machine. Cooling areas up to 150 square feet, this swamp cooler is ideal for keeping bedrooms and small offices comfortable.
Other features include:

Rolling casters for maneuverability
Air delivery distance of 18 feet
Adjustable sweeping louvers
Full function remote control
Built-in air purification system complete with ionizer, HEPA filter, and carbon filter
The NewAir AF-330 swamp cooler is currently available exclusively at Air & Water, Inc. Air-N-Water is one of the country's largest independent retailers of residential and commercial heating, cooling, and purification products. The company has been at the forefront of climate control solutions since 2003. Air-N-Water.com offers the full range of NewAir swamp coolers through their website and in their showroom in Santa Ana, California.
# # #