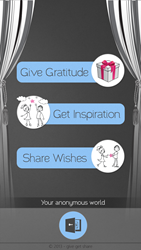 "It's based on the scientific theory that any event can change the entire course of the universe, no matter how small, and now people have a modern way to create a positive ripple effect", said Johnna Powell Maloney, founder of Butterfly EffectTM
Boston, MA (PRWEB) May 28, 2014
ButterflyEffect just launched for the iPhone and iPad, and is leveraging the world of mobile apps to create a positive influence on the lives of users. The purpose of the app is based on the premise that a single action, no matter how small, affects others in the world forever. The app provides an anonymous community in which people can give gratitude, get inspiration, share thoughts and simply connect with others.
The free ButterflyEffect app allows users to send anonymous gratitude emails to people in their lives and record their thoughts in a photo journal. ButterflyEffect is also a resource of inspirational quotes for daily boosts of happiness.
Perhaps the most interesting feature is the anonymous newsfeed where users can share their deepest thoughts with each other without the burden of being tied to their personal identity, thus being free to write anything on their minds. The ButterflyEffect website describes this as, "being able to peer into a wishing well and seeing the wishes imprinted on all of the coins inside." The app also provides the option for users to directly connect with the bearers of these thoughts via direct messaging, in order to make a positive difference.
"The purpose of the ButterflyEffect app is simple: It's about making people's lives better," said Johnna Powell Maloney, founder of Butterfly EffectTM. "Often, we're not aware of the affect we can have, and this app provides a unique platform to improve not only your own life, but also the lives of others."
The Butterfly Effect was created by development company ButterflyEffect LLC, and will be available for download from the iTunes store beginning May 27, 2014.
One source of inspiration for the development of the app was "The Science of Happiness—An Experiment on Gratitude" which is available on SoulPancake. It contends that one of the biggest contributing factors to overall happiness is how much gratitude a person demonstrates. With the Butterfly Effect, users have the chance to express gratitude in a real and tangible way.
"We're very excited about the positive impact this app can have," said Powell Maloney, "It's based on the scientific theory that any event can change the entire course of the universe, no matter how small, and now people have a modern way to create a positive ripple effect. This is as much a social experiment as a mobile app, and we believe people are going to have a really enthusiastic response."
The Butterfly Effect has been featured on PreApps.com, a site that allows app enthusiasts to rate and share new apps before their release, and it has already been met with positive feedback. For more information, visit the app website at http://www.butterfly-effect.me.