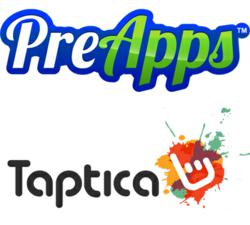 "Taptica is a great company and PreApps is proud to partner with them
Boston, MA (PRWEB) June 06, 2013
PreApps, the exclusive place to preview, rate and test upcoming new iOS apps, new Android apps , & new Windows Phone apps, has been actively engaged with the independent app community to give app enthusiasts access to undiscovered apps.
"We are doing everything that we can to give app developers a leg up on the competition," said Sean Casto, CEO of PreApps.
Last month, mobile analytics company Distimo reported that only 2 percent of the top 250 app developers are new, meaning that the glass ceiling in the app world is getting harder to break.That's part of PreApps' mandate to help bring exposure to undiscovered apps.
Taptica is a technology driven mobile ad network helping app developers meet the challenges of today's crowded market with a perfect combination of technology and profound mobile marketing expertise. The company connects advertisers with their most relevant audiences and helps publishers maximize their full earning potential.
"Taptica is a great company and PreApps is proud to partner with them. They provide a great service and we look forward to sharing that with all of the app developers on our platform," said Casto.
As part of the partnership, Taptica will be offering 2,500 free installs per publisher to help launch apps listed on PreApps. Full details will be available on PreApps' website along with the link to signup for the service with Taptica.
About PreApps
PreApps is your personal preview into the world of mobile apps! With over 1.4 millions apps currently on the market and over 30,000 new apps submitted each month, PreApps is the exclusive place to preview new and exciting apps coming soon. Our vision for PreApps is to forever enhance the relationship between mobile app developers and mobile app users, which will in turn create better apps. By implementing user feedback in the development process, apps have a greater chance of success, and for users a more enjoyable experience. Our collaborative process results in promoting pre-release buzz, pre-opted in user downloads, and critical developing user feedback. Copyright (C) 2013 PreApps.