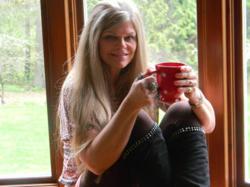 In her startlingly unique debut novel, author Megan S. Johnston opens up the world of young adult paranormal romance and gives it a much-needed, refreshing twist.
Woodinville, WA (PRWEB) July 11, 2012
In her phenomenal introductory novel, Transition, The Chimera Hunters Series, author Megan S. Johnston introduces readers to the imaginative and fascinating world of the Chimera. The Chimera an ancient race of beings, were long ago cursed by the gods, their souls split in two, forced to search the Earth for their other half to be complete. They must find their sodalis, their mate, before their mind fractures, and they lose not only their mind but their lives.
Develon Cole is a Chimera and has been searching for two-hundred and eighty-eight years. When the vivid dreams with a young woman named Shelby O'Neil begins, he knows he has at last found his sodalis, his life would finally be complete.
Shelby O'Neil is a sophomore at Washington State University. Having had an eccentric and exotic upbringing that included homeschooling and world travel, she is on her own for the first time and determined to make the most of it. When she goes on vacation with her closest friend, the last thing Shelby expects to find is Develon, a mysterious and handsome stranger she has met only in her dreams.
After telling Shelby his long, strange history and revealing to her that she is his mate for life, Develon realizes he may have put them both in great danger. Hunted by other Chimera and at risk of losing Shelby, Develon must convince Shelby of his true nature and get them both to safety before it's too late. He takes Shelby to her parents' home to discover her own destiny.
The first installment of a six-part, continuing-world series, Transition is an impressive debut from fledgling author Megan S. Johnston that will sweep readers off their feet with romance.
For information on the book launch for Transition, please visit https://www.facebook.com/events/421924567841560/.
Megan S. Johnston
Megan S. Johnston is a freelance writer and entrepreneur living in the Pacific Northwest. In addition to writing fiction, she runs several family-owned and operated businesses, which she started over twenty years ago. She is an avid reader of paranormal romance and a member of the Pacific Northwest Writers Association. She has four children and seven grandchildren and lives with her husband and two dogs in Washington State. Transition is her début novel.
For more information on Megan S. Johnston, please visit MeganSJohnston.com
Follow Megan S. Johnston on Twitter @MeganSJohnston1
Follow Megan S. Johnston on her Blog at http://MeganSJohnston.wordpress.com